Helen Jacobson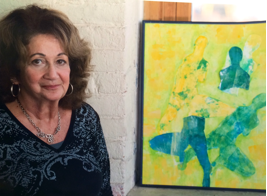 Helen Beth Jacobson grew up in the United States, Europe and Latin America because of her parents' work in immigration. This led to her constant interest in learning about diverse cultures, their art, literature and languages.
Helen studied art at Beaux Arts, Geneva, Switzerland, Academie 63 in Haarlem, Holland, and has a Bachelor of Science in Design from the University of Michigan, Ann Arbor.
Locally, Helen has taken art courses at the MFA, Castle Hill, Truro, and PAAM. She works in both her home studio, in North Eastham, and also in her River Street studio at Waltham Mills. Her work has been exhibited in libraries, schools, Fine Arts Open Houses, Waltham Open Studios, PAAM and Halls/Walls Gallery in Waltham.
During her forty year career as an educator, Helen set up day care centers, ran high school programs in Cambridge and Boston, and helped to found 826 Boston in 2007, a non-profit dedicated to developing students' creative, academic and literary skills.
I have a painting studio on the third floor of an old converted factory building which used to house Waltham Mills, but is now home to the River Street Artists Cooperative.