Beverly Ryle publishes
her new book on
Finding & Creating Work
Beverly Ryle, Director of the Center for Career and Business Development in Eastham, announces a new book, Ground of Your Own Choosing:
Winning Strategies for Finding & Creating Work.

Ordering information can be found at www.groundofyourownchoosing.com
or through www.Amazon.com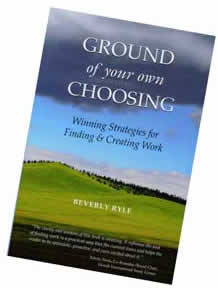 . . . . . . . . . . . . . . . . . . . . .
Lower Cape Cod
Community Development Partnership

3 Main Street, Unit 7, Eastham, MA 02642
(800) 220-6202
www.lowercape.org
email: info@lowercape.org
The Lower Cape Cod CDP exists to promote a vibrant and diverse community on the Lower Cape by addressing housing needs and encouraging small business development and job growth.
New Markets for Artists
Once Monthly - March through June (dates TBD)
Community Development Partnership Conference Room, Main Street Mercantile Plaza in Eastham
The New Markets for Artists Workshop offers Cape artists and artisans the opportunity to develop viable marketing strategies, press packages and action plans. Co-facilitated by prominent artist and RISD professor, Oren Sherman and business consultant, Rick Miller, participants will learn a variety of marketing skills and personal development tools for creating a marketing strategy that increases earning potential and provides greater financial stability. Participants will receive 20 hours of intensive skill building designed to hone and expand their art business.

Ssliding scale fee for this course. For complete program details and to register, contact Lisa at 508-240-7873 x25 or lisa@capecdp.org.

SMART START WORKSHOP
The Smart Start Workshop is a three-part interactive program for individuals at the early stages of business development. Participants learn how to apply best practices of successful corporations to their own small business—including identifying and understanding their market, analyzing the competition, and assessing their management strengths and weaknesses. If you are wondering if your business idea is a good one, or if you want to sharpen your basic business skills, this workshop is for you. To learn more about the Smart Start Workshop or to sign up for our next session, please contact Lisa Panaccione, Business Development Specialist, at (508) 240-7873 ext. 25 or via email.
ONE-ON-ONE BUSINESS DEVELOPMENT
A Business Development Specialist is available to meet one-on-one with business owners to discuss a variety of business issues, including business plan creation, marketing, financial management and operational issues. To learn more or to set up an appointment, please contact Lisa Panaccione, Business Development Specialist, at (508) 240-7873 ext. 25 or via email.

TechSMART
The TechSMART program supports business owners on the Lower Cape by helping them to streamline and grow their small businesses with integrated technology solutions.

Micro Lending
Through the Micro Loan Program, the Lower Cape Cod CDP provides loans to qualified businesses of up to $40,000. These loans can be used for working capital, real estate for the use of small business, and for machinery and equipment.
. . . . . . . . . . . . . . . . . . . . .

Women & Work February 15, 2009
Harwich Central Café: Putting Community First

By Katie O'Sullivan
It's not the easiest place to find.
Maybe you've seen the logo-decorated car parked on Route 39 in Harwich Center, and wondered, where is that coffee shop located? But go around the corner and step inside the big red house on Parallel Street and you'll be glad you made the effort.
The Harwich Central Café is owned and operated by Kris Larsen and her partner Blaise Fortunata. The smiling face behind the counter is usually Larsen herself, who enjoys greeting new customers and old friends alike to her two-year old shop. The Café's motto is "a community place," and that's first and foremost what Larsen is striving for.
The aroma of freshly brewing organic coffee fills the air, and the warm colors on the walls and array of mismatched comfy chairs tempt you to sit down and relax with a cup of something warm. "It's important to me to be a true community place. We need to support each other" Larsen says with an easy grin. "Harwich is a great place, and the people have all been very friendly. "
She believes what she says, and lives by her words. Paintings and artwork by local artists hang on the café's walls. In one corner sits a display of books by a Chatham author. WiFi is available in a sun-drenched room, allowing visitors to check their email or surf the 'net. Local musicians perform on Saturday afternoons, and Larsen hopes to have the shop's hours extended so she can offer more entertainment, such as book readings and poetry slams in the evenings. Many of the baked goods are from local bakers, and even the Fair Trade coffee beans are a Massachusetts product, roasted in Northampton by Indigo Coffee, available on the Cape at only a handful of eco-conscious shops like Larsen's.
After taking classes at Cape Cod Community College on starting and running a small business, Larsen and Fortunata shopped around for locations and settled on Parallel Street. The pair fell in love with both the town and the beautiful old building. They went to work renovating the 1830s Greek Revival home, tearing down dated wallpaper, choosing paint colors like Desert Sunset and Aztec Brick, and adding the wheelchair accessible ramp to make sure everyone in the community would feel welcome.
The café is the first business Larsen has owned. Despite taking classes and her years in the work force, she finds that owning a business is a different experience than she'd envisioned. "There's so much more going on all the time than I ever would've imagined," she says. "It's so much more terrifying in some ways, but also so much more gratifying. People's response (to the Café) has been really warm and wonderful."
In retrospect, Larsen says with a wry smile, she made a misjudgment in choosing the location for her shop. "It's not on the main road. Parallel Street is quiet and beautiful, but it's off the beaten path. I didn't realize how important that really is." But Larsen has few regrets, saying the shop is just how she pictured it in her mind, and every year brings a few more improvements. Most of her customers find the shop through word-of-mouth recommendations. "Once they find us, people are very happy and keep coming back."
Like many small business owners here, Larsen has roots on Cape Cod. "I was born in North Attleboro, but I graduated from Chatham High School." Her mother still lives in South Chatham. She left the Cape after graduation, spending 22 years in California, working with disabled students at the University of California at Berkeley. But, she adds, "I always knew I'd come back to Cape Cod one day."
Five years ago, she met Fortunata, and the pair returned to the Cape. They are partners in both business and life, having gotten married three years ago. While Larsen works with the café on a day-to-day basis, Fortunata has a separate career at Cape Cod Hospital. "Which is good," Larsen says with a smile, "especially in the winter when the café is slow."
It's not just the slow months of winter that have Larsen concerned this year. "The current economy makes it harder for everyone," she says. "People are counting their quarters. I'm grateful every time someone makes the choice to come in to buy something. Where people choose to spend their money is extremely important, and I make a point of thanking everyone who comes in."
Being part of a vibrant community is also important to Larsen, and she thinks we need to help support one another and our local businesses. "We want to be busy, but I want all of Harwich Center to be busy. People should think about going to a small local business as opposed to a national chain." This is one of the reasons the Harwich Central Café gets their coffee beans from Indigo Coffee rather than one of the other larger coffee dealers. "Indigo beans are freshly roasted the day I place the order," Larsen says, "and then shipped the next day, as opposed to traveling cross country, or across the Atlantic."
Indigo Coffee's website describes the company as an independent artisan roaster and responsible member of the community. They contribute to the fundraising efforts of local and regional non-profit groups as well as to social, economic and environmental programs in the coffee growing regions through memberships in Coffee Kids and Grounds for Health, Organic and Fair Trade certifications and purchase of Fair Trade organic coffees. Through Mass Energy's New England Greenstart program, 100% of Indigo Coffee's electricity purchases are from renewable energy sources. "And it's really good coffee," Larsen adds.
Besides the delicious array of baked goods, Harwich Central Café offers wonderful soups, healthy sandwiches, salads, and freshly baked quiches. Time-crunched customers can call in an order for take-out, and catering is available for groups or meetings. Prices are reasonable, with all breakfast items on the menu under $5.00 and hearty lunch sandwiches (with chips and a pickle slice) only $6.75, with new specials daily. The Café is currently closed on Sundays. Call the Café at (508) 432-9801 for more information, or stop in to visit them at 98 Parallel Street in Harwich Center, halfway between Bank Street and Sisson Road. You'll be happy you did.
Katie O'Sullivan lives and writes from her home in West Harwich. Her first novel, "Unfolding the Shadows," is due out this year.
www.katie-osullivan.com
How WE CAN Works For You

by Arlene Kirsch, MS, MPA
WE CAN Corp. Executive Director
LAST YEAR A WOMAN ATTENDED a financial planning workshop offered by WE CAN Corporation followed by our annual Divorce Bootcamp seminar with Attorney Anna Merrill. This stay-at-home mother's financial predicament was too unstable to seek a divorce at that time. She used the training materials from the two WE CAN workshops to create a budget, get out of debt, and position herself for divorce. About 18 months later, she visited Attorney Merrill for a divorce with her car paid off, her credit card balance nearly zero, her dental hygienist certificate completed so she could find work, her financial paperwork neatly photocopied and organized in a three-ring binder, her pink financial statement filled out, well-versed in her legal rights, and with enough money for a modest legal retainer.
Because she was well prepared, her divorce cost $2,000 instead of the usual $5,000 to $8,000, and she was ready both emotionally and financially to move her two children with minimal disruption to a home she could afford. Furthermore, when her husband tried to avoid paying child support, she had a financial buffer and a support network to get her family over the financial hump until the court lost patience and gave the husband "the 3:00 p.m. speech" (when the judge tells the dad he has until 3:00 p.m. that afternoon to come up with the child support or they will be taking him into custody).
According to Attorney Merrill, "Without WE CAN's workshops and focus on getting her emotional and financial houses in order, this woman's divorce could have been much more disruptive for herself and her children."
WE CAN also offers career assessment, divorce support, and mentorships for women in any life transition. Our new program offers preventive skillbuilding and mentoring for young women ages 18 to 23.
Ways to Participate:
• Get on the WE CAN mailing list. We'll email you our news.
• Attend WE CAN workshops. And then share your new skills with friends.
• Become a volunteer mentor. We provide support for new mentors. There's no greater experience than helping a woman to turn her life around. (You'll be helping her children too!)
• Attend or sponsor our popular, annual literary event, "A Day of Women's Words, Wit, and Wisdom" on June 4, 9:00 am to 2:30 pm, at the beautiful West Dennis Yacht Club. The 2009 panel includes acclaimed authors Jane Hamilton, Luanne Rice, and Nancy Nichols, and WE CAN's 2009 Woman of the Year, comedienne/actress/writer Anne Meara. Author and WE CAN Board Member Anne LeClaire will emcee. Join us for a fabulous, fun event!
• Help us keep our doors open – just $10 a month will help.
Many of us are only one paycheck away, one divorce away, one illness away from needing a hand to get back on track. WE CAN is the only place women can turn to for comprehensive transition services, including mentoring. We've lost our state funds and some grants this year. Joining our $10-pledge-per-month campaign will help us keep our doors open so we can help our sisters, mothers, friends and neighbors—and their children—to turn their lives around.

For more information visit
www.wecancenter.org
or call (508) 430-8111.
___________________________________________________

Cape Cod SCORE
Free Business Advice and
Business Training
(508) 375-4012
www.scorecapecod.com
Experienced Professionals to help you!
___________________________________________________
CapeWomenOnline.com
P. O. Box 720, North Eastham, Cape Cod, MA 02651
Telephone: (508) 255-5084

© Copyright 2009 CapeWomenOnline
All rights reserved