Empowering Women Resources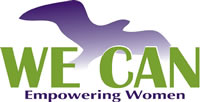 783 Route 28
Harwich Port MA 02646
(508) 430-8111
WE CAN changes lives. For more than 10 years, WE CAN has empowered Cape Cod women of all ages to successfully navigate challenging life transitions such as career change, job loss, illness, retirement, divorce, isolation or personal loss. WE CAN --Women's Empowerment through Cape Area Networking-- furthers women's development through:
How WE CAN Helps
Women typically contact WE CAN in crisis, with multiple issues that often result from a difficult transition (e.g., illness, divorce, loss of spouse, bankruptcy). Women who come to us say that our practical services, combined with our warm, caring approach provide essential support at a time when they need it most. Repeatedly we hear, "WE CAN is a lifeline!"
Through a centralized intake process called "Options", and an interconnected set of highly effective programs, WE CAN offers support, empowerment and hope to Cape Cod women, their families and, ultimately, the community.
WE CAN services usually begin with a conversation with a WE CAN staff member to help each woman understand her options, prioritize next steps, and begin to stabilize her situation. This may involve signing the woman up for one or more of WE CAN services, or an appointment with our Program Director, a highly experienced licensed mental health counselor.
Some recent examples of women who contact WE CAN:
A woman who was experiencing serious financial difficulties was helped by a one-to-one Financial Empowerment session to plan out her budget, and was also referred to Housing Assistance Corporation to deal with her housing issues.
A woman going through a difficult divorce was helped in a free 30-minute session with an attorney who specializes in divorce and family law. She also attended a Divorce Boot Camp workshop, enrolled in the PathMakers mentoring program and became part of our 8-week Divorce Support Group.
A woman who had recently been terminated – without notice –from a job was connected to our special liaison at Career Opportunities in Hyannis, who then assisted her in entering a Certified Nursing Assistant training program, with a job waiting for her at the end.
In the words of a participant in our programs:

"WE CAN is a lifeline. There are a lot of services out there but WE CAN is unique."
View WE CAN program schedule
WE CAN Now Offers Women Free Confidential One-to-One
Financial Empowerment Consultations
Experienced Finance Professionals Help Women Ensure Financial Health, Deal with Financial Issues, Concerns
WE CAN, the organization dedicated to empowering Cape Cod women to achieve lasting positive change for themselves and their families, now offers free confidential one-to-one Financial Empowerment Consultations.
These 45 minute one-to-one sessions are for women who want to plan for a financially healthy future, as well as those who are currently struggling with financial issues or concerns. Through the generosity of experienced bankers, financial planners, and accountants, Cape Cod women now have an opportunity to obtain guidance and direction on a wide range of financial matters.
WE CAN's Financial Empowerment program is designed to complement existing programs on the Cape that offer financial guidance, by assisting women who may need more individualized attention than they may be able to receive in a group setting. This program is also an option for those who may feel uncomfortable in other more "public" venues.
Financial Empowerment sessions with a professional financial volunteer can be scheduled in advance by calling the WE CAN office. Initial sessions are 45 minutes in length, with the opportunity to schedule a follow up if the situation warrants. The sessions are held at the WE CAN office in Harwich Port.
For more information or to schedule a Financial Empowerment consultation, contact info@wecancenter.org
or call 508-430-8111.
Financial Empowerment sessions are sponsored in part by Eastern Bank, TD Bank and Bank of America.
WE CAN Offers Work Support Monthly Meeting for Women Seeking
Work on Cape Cod
WE CAN, the organization dedicated to empowering Cape Cod women to achieve lasting positive change for themselves and their families, is offering monthly Work Support meetings for women who are seeking work or trying to create sustainable work on Cape Cod.
Meetings are held the first Tuesday of every month, 9:30 AM-11 AM in the WE CAN Dick Sullivan Conference Building (located behind the WE CAN office), 783 Rte. 28, Harwich Port.
The next session is Tuesday, February 4: "For All the Entrepreneurs!" featuring four women who are or have been successful business owners:
The purpose of these monthly group meetings is to:
Create a support network
Assist with skill-building
Share information and resources
Group facilitators will provide guidance and direction as well as information on a specific topic each month, such as:
Using social media
Relationship building/networking
Successful marketing strategies (for yourself to prospective employers or for your business to potential customers)
Optional "homework" to help participants move toward their goal may be assigned.
The Work Support monthly group is open to all Cape women, regardless of previous involvement with WE CAN's broader Work Support Program. Women may attend as often as desired. Participation for each session will be limited to 15. Registration is required for each session.
To register for any Work Support monthly meeting, contact WE CAN at 508-430-8111 or info@wecancenter.org.
WE CAN's Work Support Program is funded by the Cape and Islands United Way
---

ABWA (American Business Women's Association)
Cape Cod Charter Chapter
BPW (Business & Professional Women)
of Lower Cape Cod
BPW strives to "achieve equity for all women in the workplace through advocacy, education and information." Monthly meetings at local restaurants (508) 945-1119

Geek Girl – Computer Support & Classes
Geek Girl Mission is to "educate and empower every girl and woman at every age level, on every skill level, at every income level on computer technology with fun and provide a legacy by giving back and paying it forward".