Welcome to the
Fall Issue of
CapeWomenOnline!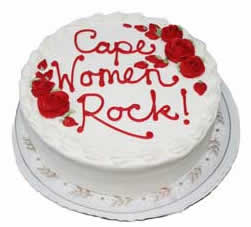 Cape
Women
Online got off to a great start in August with a terrific response to our first issue and a publication party attended by all the great women involved in getting this project off the ground. The cake pictured above says it all!
And now we are proud to present our Fall Issue of CapeWomenOnline, where we celebrate this beautiful season on Cape Cod, a time when we can enjoy the last remnants of warm weather in a more relaxed state than during the frenzied summer months. In honor of Fall, we asked Cape women to describe their favorite walks at this time of year, so they can introduce us to some of the Cape's most beautiful areas that we may not have discovered for ourselves.
Sheryll Hirschberger, a Feng Shui expert who wrote regularly for CapeWomen magazine, has penned an article full of wisdom about why we find the fall season and the inexorable slide into winter so difficult. It is a season for reaping and harvesting, for clearing out and for new beginnings; exciting, but scary. Read her article on the "Body/Mind/Spirit' page. On this same page is an interview with meta-physician Lynne Delaney, who is just starting out in practice in Brewster as a medium and energy worker, helping people connect with their loved ones and their life's purpose.
This month we honor Marion Vuilleumier, author of more than 20 books and the first recipient of the Mercy Warren Otis award, who celebrates her 90th birthday in October. In the 'Women and the Arts" section, Nicola Burnell gives an in-depth look at the benefits of Julia Cameron's The Artist's Way, including an interview with Coco Larrain, a painter who followed the program with astounding results. And in "Women and Work," we join in celebration with career counselor and business consultant Beverly Ryle, who this month publishes her new book on finding and creating work—it couldn't be more timely!
This magazine is for YOU, it's about people you know, stories you can relate to, local resources that you can access, even a chance to express yourself. We have deliberately kept this website simple—simple to use, simple in design, simple in concept; in fact, as much like a MAGAZINE as you can possibly get on a web site. Please take your time and enjoy each article. There is much wisdom in these pages, with stories of women's lives and their experiences which we hope you will find inspiring and useful. And the August issue is still available—just click at the bottom of each page's contents on this front page.
Again, we wish express our deepest thanks to all those who have contributed to this magaine. We do hope you enjoy this issue, and we encourage your feed-back. Please contact us and let us know your thoughts and send us your ideas for future contributions. We look forward to hearing from you!
Gillian Drake, Publisher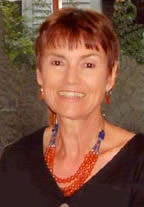 Nicola Burnell, Editor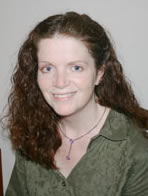 We Can
537 Main Street, Suite 2H Harwich Port, MA 02646
(508) 430-8111
www.wecancenter.org
Resource list:

www.wecan.dabbledb.com
wecancenter@comcast.net

We Can
offers support for Cape women. Call
We Can
to set up an appointment to speak with a counselor about the programs. All services are offered free of charge. Donations are gratefully accepted.
Helping Our Women

A resource center for women with chronic, life threatening
and/or disabling illness
Serving Provincetown
to Eastham
Post Office Box 1376
336 Commercial Street #9, Provincetown MA 02657
Tel: 508.487.4357
Fax: 508.487.4364

www.helpingourwomen.org
Email: info@helpingourwomen.org
Independence House
Independence House, Inc. is a private, non-profit organization, established in 1979 to serve the needs of battered woman and their children. In 1981, Independence House added rape crisis services to its programs.
HOTLINE:
1-800-439-6507

FALL 2008
Table of Contents
The Arts
• Discovering The Artist's Way
by Nicola Burnell
• An Artist's Journey into Creative Recovery
by Nicola Burnell & Coco Larrain
• 21 in Truro Exhibition in Falmouth
Carol Odell, New Member

Women & Words
• Pen Women celebrate Marion Vuilleumier's
90th Birthday by Christie Lowrance
• Profile of Marion Vuilleumier by Nicola Burnell
• Flash Fiction by Kathleen Geagan

Body/Mind/Spirit
• Feng Shui: Befriending Metal
by Sheryll Hirschberger Reichwein
• Embracing the Gift: An Interview with Meta-
Physician Lynne Delaney by Gillian Drake
• A Message from Spirit
Channeled by Lynne Delaney
Health
• The Creating Wellness Program
at Lowey Chiropractic in Orleans
by Gillian Drake
• My Battle against Cancer
by Kathleen O'Keefe-Kanavos
• CapeCare Update

The Environment
• Why We Love the Cape! Our Favorite Fall Walks
by Anne Garton, Mary Moquin, Shawn Nelson,
Karen North Wells, Donna Laemmle and
Suzanne McConnell

Relationships & Family
• Marriage and the Test of Time:
The Path Along the Pines
by Saralee Perel
• Living with Autism
by Johanne Kieffer

Women & Work
• Beverly Ryle Publishes Her New Book on
Finding & Creating Work: Book Review and
Interview

Women in Transition
• Anatomy of a Divorce:
Cleaning House by Sherri Mahoney-Battles
• Back to School: To Go or Not To Go?
by Joan Graham

New Horizons/Travel
• Moving from Cape Cod to Mexico
Small World by Rena Lindstrom
• Franny Golden: Buying a House in France
by Jim Talin

To receive email announcements of each new issue, please enter your email address into the box at the top right of the page.
Response to the
First Issue!
"Congratulations! This first issue is very thought provoking. Change: how do we stay open and vital, authentic and compassionate, as we move through this challenging life here on earth and especially in our materialistic, competitive society? Hearing these stories, I know that one way we do it is staying close to other women who have this intention for their lives. CapeWomenOnline is a welcome vehicle for our community. Thanks for making it happen."
— Rena L., Mexico
"CapeWomenOnline is very impressive—nice, clean design, very readable and user friendly. The thing that really stands out though is the content. A lot of times websites like this claim to be for all women but actually appeal to a very narrow group or push a narrow philosophy. I loved that this really did offer a broad spectrum of personal articles from many perspectives. I checked out every tab, read three or four stories, enjoyed them, and bookmarked it. That's the best compliment I can give as someone who visits hundreds of websites every week." — Kathy W., North Eastham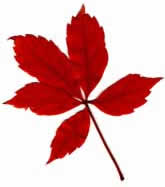 "I have just spent a wonderful half hour with Cape Women Online and am frankly awed by your work. It is wonderful! Congratulations! I am sending the link on to a number of people . .. not only on the Cape."
—Carol M., Harwich
A friend forwarded me the link to your great website. I'm so glad to see the magazine back up and running. I was a fan in the past. Again, congratulations on this venture. With all the extraordinary women here, there'll be no shortage of subjects or interest!"
— Lynne B., Belmont, MA
"CapeWomenOnline has the wonderful original feel CapeWomen did ten years ago . . . Really remarkable what you two have done. I usually have trouble reading on line but the format lends itself beautifully to perusal. Congratulations!"
— Kathleen G., Brewster