Welcome to the
Pilot
Issue of
CapeWomenOnline!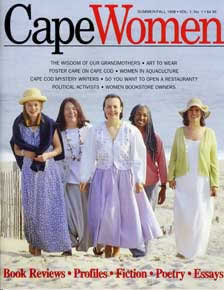 CapeWomenmagazine was published on Cape Cod from 1998 to 2003. In the five years since it was last published, we have been constantly reminded by former readers how much the magazine was missed. And so we have decided to fully embrace the Information Age and give new life to CapeWomen by creating a FREE online magazine.
Cape

Women

Online is about women you know, stories you can relate to, and local resources that you can access. These pages contain stories of hope, courage and inspiration and are a profound celebration of the amazing community of creative women living on Cape Cod.
Cape
Women
Online's Contributors

For this pilot issue we invited CapeWomen's regular contributors to write about how their lives have changed since the last issue of the magazine was published in 2003. These essays explore marriage, divorce, widowhood, becoming an artist, living with cancer, moving to Mexico, renovating a house in Italy, and the value of friendship. Writers include Joan Graham, Anne Garton, Virginia Reiser, Sheryll Hirschberger, Nicola Burnell, and Beverly Ryle, all familar names to past readers of Cape
Women
magazine.

This is just the beginning
!
A new issue of
Cape

Women

Online
will be published every two months with a new selection of essays, articles, and interviews. An email announcement like this one will be sent to our e-mailing list to alert you about the publication of the new issue.
Just as Cape
Women
magazine prided itself on being a "a literate, editorially-driven magazine," we plan to continue in this vein.

Cape
Women
Online will showcase creative writing, poetry, and memoir, along with articles and essays by both amateur and professional writers, giving everyone a chance to tell their story. In addition, CWO will explore the many issues that women face today, both at home, at work, in the larger environment, and in their creative lives. It is our goal to create a dynamic online venue for Cape Women to share ideas, experiences and resources.
We encourage your feed-back, so please let us know your thoughts and any ideas you may have for future issues. We hope you enjoy this pilot issue, and look forward to hearing from you!
Gillian Drake, Publisher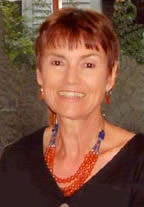 Nicola Burnell, Editor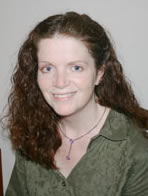 We Can
537 Main Street, Suite 2H Harwich Port, MA 02646
(508) 430-8111
www.wecancenter.org
Resource list:

www.wecan.dabbledb.com
wecancenter@comcast.net

We Can
offers support for Cape women. Call
We Can
to set up an appointment to speak with a counselor about the programs. All services are offered free of charge. Donations are gratefully accepted.
Helping Our Women

A resource center for women with chronic, life threatening
and/or disabling illness
Serving Provincetown
to Eastham
Post Office Box 1376
336 Commercial Street #9, Provincetown MA 02657
Tel: 508.487.4357
Fax: 508.487.4364

www.helpingourwomen.org
Email: info@helpingourwomen.org

SUMMER 2008
Table of Contents
The Arts
• On Becoming an Artist
By Anne Garton
• Approaches to Watercolor into Creative Recovery
by Elizabeth Pratt
• Evolution of an Art Form: A Retrospective of Drawings and Sculpture
Joyce Johnson

Women & Words
• On Writing and Publishing My First Book by by Beverly Ryle
• Marking the passage of time Five Years Later by by Virginia Reiser
• Spirit, You Know The Way by by Suzanne McConnell

Body/Mind/Spirit
• Subtract Negative Thinking
by by Gail McMeekin
• Open Your Heart Chakra: by Mary Oliver \
Health
• Protecting our Right to Use Bio-Identical Hormones
• Ten Facts About Lyme Disease
• The Campaign for Safe Cosmetics

The Environment
• The Nature of the Cape
by By Mary Richmond,
• The Next American Revolution
• Thumbs Down to Industrialized Food
• Our Changing World: Really Good Crappy Ideas

Relationships & Family
• The Healing Power of Friendship
by Nicola Burnell
• Living with Autism:The Teacher
by Johanne Kieffer

Women & Work
• Breaking the Pattern of Overwork
by Beverly Ryle
•Small Business Programs

Women in Transition
• Would You Like More Coffee?
by by Sheryll Hirschberger Reichwein
• New Beginnings
by Joan Graham

New Horizons/Travel
• Moving from Cape Cod to Mexico
Small World by Rena Lindstrom
•Renovating a House in Italy The Seduction of a House Hunter
by Gillian Drake


Independence House
Independence House, Inc. is a private, non-profit organization, established in 1979 to serve the needs of battered woman and their children. In 1981, Independence House added rape crisis services to its programs.