To order, check your local Cape Cod bookstore, or email: GillianHDrake@aol.com
$14.95 plus $5 shipping.
The following poem by Kathleen Geagan is from the anthology of poetry, fiction and memoir about Cape Cod entitled "World of Water, World of Sand," published by Shank Painter Publishing.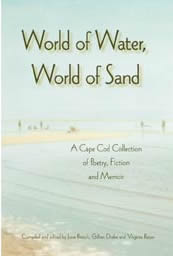 Cold Moon of Cape Cod

Keep on shining
like spring in Kentucky.
His shy kiss
on the nape of my neck
arrives unannounced.
Leaning back into his loose-limbed affection,
long arms enfold me like a southerly breeze.
Absolve me, Gentle Jim, ghostly lover.
Stay, please stay, until June.
The month of May
can be deathly cold here.
Cold as the full, December moon.
—Kathleen Geagan
Cape Cod's Pen Women
Celebrate Marion Vuilleumier
The following is a dedication from a book presented to Marion Vuilleumier by the Cape Cod Chapter of the National League of American Pen Women (NLAPW)
by Christie Lowrance
Happy birthday, Marion! A resounding congratulations from all the Pen Women, past and present, to you, a writer who represents so fully all the organization stands for. In truth, writers throughout Cape Cod, and indeed around the country, must thank you for the inspiration and role model you have provided us. You made the hard, solitary, often frustrating and exasperating work of writing look easy.
How did you do it? What's the grand total of the books you've written, 23? 24? And a new one on the way? Unbelievable. You always seemed to know how make it happen, and you were so generous in sharing that knowledge with other writers coming along. You knew writing is just the first part, maybe the easy part, unlike selling, marketing and promoting the writing. So, what better way to help people learn about all aspects of writing than to start the Cape Cod Writer's Conference at Craigville? Take a wild guess, Marion, about how many hundreds of faculty members have been introduced at the Tabernacle over the years? How many thousands of participants crowded into the classes they taught?
And your legacy isn't just published books and the Writer's Conference. Started in 1978, your "Books and the World" interviews became one of the longest running cable access programs in the country. Again, you knew instinctively in those early days that cable was here to stay, and how right you were. Mike Wallace, David McCullough, Tip O'Neil, and Kurt Vonnegut were some of your guests…and so were some of your fellow Pen Women. How nice to know that those interviews are at the Cape Cod Community College for all to enjoy!
Your teaching series on tape was another learning opportunity for aspiring writers; you were an early proponent of getting work onto the Web. Your perspective was captured in an interview for NPR's "Story Corps," by Jackie Loring, who says, "She has had a gift for knowing what new thing had its feet firmly in concrete, and when Marion knew something, she was so generous in sharing that information."
In your 90 years, Marion, you have made your mark in so many areas! What an enduring inspiration you are! How fitting that you were the first person to receive the prestigious Mercy Otis Warren "Woman of the Year Award." You have probably written more books, taught more classes, and influenced more writers than anyone else on this exquisite peninsula. You've been open, supportive, a friend, and, perhaps best of all, you always made that elusive experience of success seem possible to the rest of us wrestling with our hopes and dreams.
Here's an idea for your next project, Marion! How about writing a book on the secrets to your success, and we'll start taking pre-orders at the next Pen Women meeting!!
With our love, admiration and deepest appreciation, always,
— Your Pen Women friends!
Christie Lowrance is a longtime freelance writer/editor whose work has been published in national and regional newspapers, magazines and books, including Cranberry Harvest, Fodor's Cape Cod, Insider's Guide to Cape Cod, and Cape Cod Travel Guide. She has taught writing at UMass Dartmouth, Cape Cod Community College, and the Cape Cod Writers Center.
Who Are These Fabulous
Pen Women?
by Nicola Burnell
The National League of American Pen Women, founded in 1897, is the oldest women's arts organization in the United States. This formal group of artists, writers and musicians have worked together for over a century to serve their communities by offering outreach programs, scholarships and writing grants for both creative and social causes.
Pen Women have a Pioneer spirit. Throughout history, Pen Women have been working to improve their communities by sharing their unique talents. Pen Woman in Letters and First Lady Eleanor Roosevelt, for example, shared her views on personal, social and political issues through her syndicated column, My Day.
We have Pen Woman in Art Vinnie Ream to thank for the statue of Abraham Lincoln in the Capitol Rotunda. The founder of Planned Parenthood was Pen Woman Margaret Sanger, who went to jail in 1917 for writing the first pamphlet on birth control Family Limitations.
The official League headquarters is the Pen Arts Building, once occupied by Robert Todd Lincoln, eldest son of Abraham Lincoln, in the Dupont Circle Historical District of Washington D.C. This red bricked mansion offers Pen Women affordable accommodations during the NLAPW Biennial Conferences and national board meetings. It is available for all Pen Women and friends for DC overnights for a mere $50 donation.
With local branches of Pen Women expanding all over the country, the future of the NLAPW is stronger than ever. Over 4,500 members make up more than 1,500 branches across the US. The inclusive nature of this not-for-profit organization supports the spirit of education in that its members attend each others shows. Each branch works as a team to encourage and inspire its members by holding regular meetings, workshops, exhibitions and lectures.
Women become NLAPW members by invitation from a current member and meeting certain qualification requirements that support the professional standard. Local dues are $10 per year for our local Cape Cod Branch (others charge differently) plus $55 for the national dues. Members receive the professional quality quarterly magazine The Pen Woman and access to the Mature Women's Scholarship Fund that aids professional development.
For more information about the National League of American Pen Women visit www.nlapw.org
. . . . . . . . . . . . . . . . . . . . . . . . . . . . .
f l a s h f i c t i o n
The Way Out
by Kathleen Geagan
THIS WAS Maura's territory. She liked to walk the circular path in the park around Ruth Pond. Some days she went clockwise to set an intention, other times she'd take a counterclockwise meander to undo some knot in her noggin. When she was asked for directions for the third time that day, Maura sensed that she was emitting an air of authority that was missing in her daily life. She hated feeling responsible for anyone. What if they became lost, were attacked by coyotes because she mixed up her left with her right? When she saw the man peering at the park map she nipped onto the dirt trail leading deeper into the woods. She hoped the bad boys from the detention center were no longer camping here. The rumor was their funding had been cut: too many disturbing incidents, too many felled trees with 'suck this' burned into their trunks.
Up ahead near the old well a small deer caught her scent. They stared at each other still as stones. Then a rustling spooked the fawn. As it darted into the thicket, Maura followed, leaping over an overturned grill. It was ecstasy to chase a tail other than her own.
For a moment she forgot about the support group. She forgot about the knots in her head and calves and the fact that she hadn't run in decades. Maura often wondered how she had ended up facilitating a widow's group, she who had a mate, an entirely intact husband from whom she often sought escape, especially when he launched into his morning diatribes, stripped down to his skivvies, shaving cream setting on his face, fuming about Fannie, Freddie and fiscal reform. These walks were her way out.
As the deer disappeared into tick-infested terrain, the familiar waters of Ruth Pond came into sight. She would be only a few minutes late. Rushing into the basement room of Brewster Ladies Library, Maura would make her apologies, offer excuses about summer traffic, then ask, "Who'd like a nice cup of tea before we get started?"
Kathleen Geagan lives in Brewster.

. . . . . . . . . . . . . . . . . . . . . . . . . . . . .
Celebrating 90 Years of
Marion Vuilleumier

Prolific writer, teacher, historian

by Nicola Burnell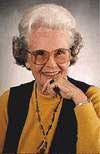 Marion Vuilleumier can trace her ancestry back to the Mayflower. She is the eighth great-granddaughter of Governor William Bradford and John and Priscilla Alden. With the pioneer spirit encoded into her DNA, she has literally blazed a trail through Cape Cod that has already secured her place in our history books.
You may know Marion as the author of The Cat Who Was An Actress, Cape Cod's Craigville 1872 - 1994, Along The Wompanoag Trail and Cape Cod: A Pictorial History. You may not know that she began her writing career at age twelve, when she sold her first short story to Baptist Junior World Magazine for five dollars. Marion has been writing and publishing ever since and now has 23 titles to her name.
It was her husband's career that brought Marion, daughter Ginny, and twin sons Pierre and Louis, to Cape Cod in 1960, when he assumed the position of area minister of Congregational Churches in Southeastern Massachusetts. But Marion was anything but a typical minister's wife. She was also a career woman and graduate of Gordon College, with a degree in Theology and Mission.
As soon as she had settled her family in Craigville, where Pierre was the director of The Craigville Conference Center summer activities, Marion hit the ground running. She became the driving force behind the creation of several successful literary and social institutions on the Cape.
Within a year of her arrival, Marion had joined a small writer's group. By 1963 she had scheduled the first Cape Cod Writer's Conference at Craigville, and the writer's group became the first members of the Cape Cod Writer's Center. She ran the Writer's Center and the Writer's Conference, held during the third week of August, for the next 20 years, introducing writers from all over the country to an immeasurable wealth of authors, editors and publishers.
It was at the Craigville Writer's Conferences, in 1993, that I first met Marion. She immediately took me under her wing and invited me to join one of her personal writer's groups, held at her home in Mayflower Place, in West Yarmouth. This began a journey and friendship that has now spanned fifteen years and counting. I had no idea, back then, how influential this gracious lady was going to become, not only in my journalistic and teaching career, but in my personal life too.
Did I mention that Mayflower Place is one of five retirement centers on the Cape that have Marion's community service expertise to thank for their existence? Working with her husband and the Congregational Churches, Marion helped to negotiate grants and create Boards to provide homes for over 600 units of permanent housing on the Cape.
Marion's entrepreneurial spirit reigned supreme when cable television came to Cape Cod and she recognized that local access television was a powerful way to market local writers and the Writer's Conference. She began interviewing authors on her television show "Books and the World" in 1978. This became the longest-running community cable access program in the country.
It is no surprise that once the internet came to town, Marion was first in line for a computer. She embraced the dawn of the internet with almost childish delight. Once again she recognized a business opportunity and created her website to sell her books online. She also taught self-publication classes at Cape Cod Community College, where she was a faculty member for fifteen years.
I gauge my personal timeline in terms of life before or after email. Marion took her first breath on October 12, 1918, before television. She has witnessed two world wars, the great Depression, the assassinations of Presidents and human rights activists, and she has survived countless election cycles.
When I walk into Marion's apartment, as I do every week to work as her personal assistant, our first order of business is a discussion of the social and political issues that have crossed our television screens. We debate, commiserate and brainstorm as if we were a couple of teenagers, sharing our life stories with each other as we try to make sense of our rapidly changing world. Marion's passion to participate never wavers and her faith in a hopeful future never skips a beat.
I recently attended a celebration to honor Marion's 90th birthday at Mayflower Place, hosted by the National League of American Pen Women. Of course it was Marion who began the Cape Cod branch of this nationally renowned league of artists, writers and musicians.
Turning 90 is an incredible milestone for any woman, but I was truly humbled when the women gathered at the party each described with love and appreciation how Marion had influenced their personal and professional lives. Like me, many of them had started their writing careers in her writer's groups, and went on to get published or to teach what she had taught them. Her legacy is deeply rooted in us all.
Perhaps one of the strongest gifts that Marion possesses is her spirituality and her stubborn determination to overcome the physical effects of aging. She admits to getting annoyed when her body doesn't cooperate sometimes — she literally yells at the physical ailment. "God put me in charge of my own body and when it doesn't work properly I tell the problem to 'GET LOST!' and usually it goes away by the end of the day, or the next time I think about it."
When asked what the greatest achievement of her life has been to date, Marion is very clear about the importance of her community service. "My husband and I helped start five retirement centers on the Cape and I am grateful we were able to do a number of things that have really helped people."
Even at age 90, Marion Vuilleumier still has plans to publish more books. "I want to keep writing as long as I can," she affirms. She is currently working on the sixth reprint of Boys & Girls on Olde Cape Cod, and has an idea for a spiritual healing book that she refuses to discuss until it has been written. "Don't talk about what you want to write or you won't write it!" I now share this prudent advice with my own writing students.
Nicola Burnell is the editor of this magazine, and is a member of the National League of American Pen Women. She lives in Harwich.
You can find a selection of Marion Vuilleumier's books at www.capecodbooksetcetera.com