These two artists, both Cape residents, were
honored with museum shows this summer
Elizabeth Pratt
Approaches to Watercolor

Cape Cod Museum of Art, dennis
July 12 to September 7, 2008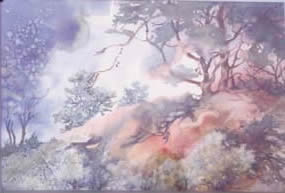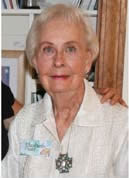 A FULL-TIME ARTIST with a spontaneous and lyrical style, Elizabeth Pratt keeps her work continually fresh and alive in a range of subject matter treated with new techniques. Now 80 years old, she has worked primarily with watercolors for over 60 years, saying, "Since my early training, watercolor has challenged and excited me. My aim has never been to become more proficient in realism but rather to explore the limits of watercolor's possibilities. I strive to let the paints' characteristics rule, the drips, bleeds and blooms be apparent for visual enjoyment. When I put water to the paper, I don't know what it's going to do. It just goes, and some miracle happens."
  The invention of hot press papers in the 1960s expanded the medium's ability to achieve amazing textures. "The paint stays on the surface and can be manipulated with various tools as well as with brushes," explains Pratt. "Color vibrancy, abstract shapes, tactile representations and lighting extremes are enhanced without a preset plan. I let the medium lead me."
  The works evolve on the paper through a combination of "accidents" guided by her vivid imagination. "Landscapes begin as abstracts and the nature I know emerges. If painterly effects appear in jeopardy, I stop and leave the essence," she says. "These methods have been transmitted in all my teaching. I stress how to see differently, how to cherish what is developing on the page, how to push it to the utmost."
  Robert Vickrey has said, "Ever since I first saw Elizabeth Pratt flipping pieces of celluloid back and forth through the wet paint I've been fascinated by her work."
  Even after having completed more than 2,000 watercolors, she still feels the rush of excitement when the first colors go down, "flowing freely, uncontrolled, meandering in a way more beautiful than I could have imagined." She will tilt, drop in more colors, imprint, spray, and spatter, continually looking for the direction the painting is taking. "It's a game of nerve, of spontaneous decisions. The paint always wins and I am glad to be on its team."
  Sally Lamson, Executive Director of the Creative Arts Center in Chatham, remembers that back in the 1980s, Pratt was known as the "quiet revolutionary." Says Lamson, "Although she is extraordinarily organized, Elizabeth enjoys taking risks and being spontaneous when she is painting. Not knowing exactly how the painting will turn out is part of the challenge. Innovative and certainly ahead of her time, Libby brought excitement and exploration to the study of watercolor painting on Cape Cod."
  In describing her fearless approach to watercolor painting, Pratt has said, "I've gotten various textures by applying paint to hot press paper through crushed tissue paper and then removing the tissue. I've also had success by applying paint to the paper and then pressing crushed tissue, wax paper or clear plastic wrap into the wet paint. I've rolled a brayer over wet paint and put paint on a brayer to roll it onto the paper. I've brushed color and India ink onto paper, partially dried it with a hair dryer and then sprayed it with water to wash off the damp paint while leaving tints in patterns. I've displaced wet paint by sprinkling it with water or grains of salt. I've taken a wet painting-in-progress, flattened it against a sheet of Plexiglass, and gone back to work on what was left on the paper. I've applied globs of color and tilted the paper until it ran. I've splattered a second color onto a first, and I've glazed a thin layer over paint over dry color." And she adds the most important point, the ingredient that is evident in all her work: "I've had fun!"
  Pratt studied at the Dayton Art Institute and married right after earning her B.A. in Fine Arts at William and Mary. She began a family while continuing her studies through workshops. At 28, the family moved to Morocco where she taught, sold her work and was commissioned to do a portrait of the King. She made many trips to Europe's museums and her sensitivity was increased by seeing the Masters. Upon her return to the United States, she became a juried member of the Washington Watercolor Society. She co-founded, and later became Director of, the Spectrum Gallery in Washington D.C. During that period, her watercolors were acquired by government agencies, corporations and well-known collectors.
  In 1978, she moved to Boston and earned the prerequisite first-place awards to be named a Copley Master. She also became a juried member of the New England Watercolor Society and was an integral part of their museum shows throughout the region. Her work has been accepted into National Watercolor exhibitions in ten states and she is a juried member of Audubon Artists, New York City, and the New England Watercolor Society. Pratt has taught at the Creative Arts Center in Chatham, Truro Center for the Arts at Castle Hill, the Cape Cod Museum of Art in Dennis, and at the Cahoon Museum in Cotuit.
  Pratt's work has been featured in many periodicals and is featured in the August 2008 issue of American Art Collector. Her work and techniques have been covered in many books, including The Best of Watercolor by Betty Lou Schlem and Tom Nicolas, among others. Charles Le Clair, author of The Art of Watercolor and Dean at the Tyler School of Art, Temple University, devoted a chapter of his book to her processes, saying: "Indeed, for many painters experimentation itself, rather than subject matter or design, is the starting point and ultimate inspiration for their work. Elizabeth Pratt is just such a person."
Elizabeth Pratt is exclusively represented by Addison Art Gallery in Orleans. She will have an exhibit of her work opening on Saturday, August 30 with a reception from 5:30 to 7:30 pm. On Sunday, August 31 from 2:00 - 3:00 she will present a Gallery Talk entitled "A Funny Thing Happened on the Way to the Gallery"
www.addisonart.com
. . . . . . . . . . . . . . . . . . . . . . . . . . . . . . . .

CapeWomenOnline.com
P. O. Box 720, North Eastham, Cape Cod, MA 02651
Telephone: (508) 255-5084

All rights reserved | Return to top of page

Joyce Johnson
Evolution of an Art Form:
A Retrospective of Drawings and Sculpture

Provincetown Art Association and Museum
May 16 to July 13, 2008

This major exhibition featured work from Joyce Johnson's nearly 50-year career on Cape Cod, and included over 20 new pieces. She is known for her figurative and biomorphic sculptures inspired by the natural environment. Working in clay, wood, and bronze, her idiom is small abstract sculptures whose angles and curves cast intriguing shadows. Her reliefs are inspired by the natural world—plants and flowers—creating a metaphor of tranquility.
 Joyce Johnson is probably best known as the founder of Truro Center for the Arts at Castle Hill, which she started in the backyard of her sculpture studio in Eastham in 1968. But this many-faceted woman is foremost a gifted artist and a dedicated teacher, and her love for her community and the wildness of nature that surrounds it provides the passion that fuels her art. Her figurative and biomorphic sculptures are inspired by the natural environment; working in clay, wood, and resin, her idiom is small abstract sculptures whose angles and curves cast intriguing shadows.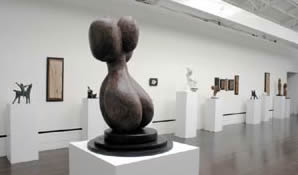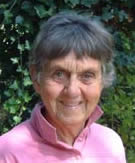 She lives and works close to the earth, salvaging many of her personal and artistic needs from recycled materials, and lives the life of an artist in a house in Truro that she built herself on farmland she purchased in 1963. She says of this idyllic place, "I often wonder what my work would be like if I had not been fortunate enough to purchase this land in Truro before land prices skyrocketed. The kettle pond -and the home I built there by hand have provided an oasis for over 30 years from the summer turmoil of a tourist community. But more than that, as I planted trees and a garden, I was able to watch nature in its full and varied splendor, from the ripening buds of winter to the bloom of summer, to the fragile skeletons that survive fall breezes, and foraging birds and animals. Those lingering remains have inspired my persistent theme of seed pods and bud totems through which I continue to find new forms and energy."
 Johnson spent most of her early childhood in Concord, MA, and, inspired by the many literary figures that lived there during the 19th century, she developed a passion for literature and writing. At 26 and uncertain about her future, she traveled and lived in Madrid for two years. She began her serious study of sculpture with one of Spain's most respected sculptors, Don Ramon Mateu, who encouraged her to return to America to continue her studies. Upon graduating with honors from Boston's School of the Museum of Fine Arts in 1962, she completed a graduate teaching fellowship there the following year. The imagery from her early years in Spain has served as a thread throughout her work—mysterious cloaked men, ample women, falcons—along with symbols derived from her fascination with nature—buds and blooms, whales and waves, seed pods and weeds.  Her first love is wood carving, which she discovered when she was 10 years old. She remembers: "I've been drawing since I was six or seven, I had drawing lessons, and then a friend of my parents, who noticed I was whittling, brought me a set of carving tools. Later, when I was a teenager exploring, I knew I wanted to carve, but I wanted to do bigger pieces. Two people were significant in my discovery about wood and carving tools; one was Vernon Smith of South Orleans, a relief wood carver, who was head of the WPA program on Cape Cod. He took me to his studio and showed me his tools and how he carved, so I got the feel of it from him, and also an idea of what was possible. Around the same time, I ran into Bernard Collins, who was in charge of the Nauset High School woodworking shop. I was at Nickerson Lumber Company in Orleans, asking the people there what wood would be good for carving. Bernard was there and overheard the conversation. He came up to me and said that the best thing for me to carve would be a good piece of mahogany, it's a hard wood but it's porous, so it's easier to carve. It's a very stable wood, you get a wonderful polish on it, and it has a wonderful grain. So they both got me started with their encouragement for someone who was floundering; they were tiny little stepping stones to help me find the right wood etc. in a world where wood-carving was fairly rare." Johnson has since carved figures and totems out of massive pieces of walnut and apple, mahogany and butternut, redwood and poplar, some pieces taking a year to complete. Her work evolved to include stone carving and bronzes, alternating in scale between large pieces and exquisite miniatures, molded in clay in the curve of her hand, which often served as models for larger works.
 "One of the reasons I rarely sell my woodcarvings is that they are a continuous source of inspiration to me, they inspire me to create other pieces. Also, they still feel part of me, and they nurture this little flame of creativity inside me, because you never know whether you are on track or not. The creative aspect of sculpture is so slow, it's not like painting—the physical aspect takes so long, so you can get side-tracked. I don't use machinery, it's all done by hand; I take off one piece off at a time, and I have to be very careful, there isn't much leeway." Asked if she remembers making a mistake, she says, "Mistakes! If I make a mistake then I adjust! Though there's a piece sitting up in my loft which I did when I thought I could do direct carving, with no drawings or clay models, and I botched it! So I learned that I need preliminary sketches, either drawings or small pieces of clay, even if only 2" or 3" tall."
 Says Johnson of this exhibition: "I am pleased with this show, but it's probably the last major show I'll have because I'm getting to the point where I don't have the kind of energy necessary to put one together. I didn't do more wood carvings for the show because they take so long, and I didn't know if I could get them done in time. After all, I'll be 79 this summer, and it's taking me longer to finish those large pieces. I've been working on the show since November, but the result is that I now see how precious time is—to have the time and space to work at your leisure, and the good health to do it, and have the object you want to work on—I have a great appreciation now for having that leisure time to work at my own pace."
  Johnson's commitment to living the life of an artist includes an intense involvement in her local community, where she is actively involved in many local organizations, from a local weekly radio program to starting the Peaked Hill Trust to save the historic dune shacks on the Outer Shore. She still maintains her sculpture studio in North Eastham and also teaches. She also co-founded the Outer Cape Artists Residency Consortium and is on the board for the Highland Center Inc. and Campus Provincetown. In 1997, Cape Women Creating named her a "Living Treasure."
Joyce Johnson is represented by the Addison Art Gallery in Orleans.
www.addisonart.com

"The practice of art isn't to make a living,"
Kurt Vonnegut said. "It's to make your soul grow."
. . . . . . . . . . . . . . . . . . . . . . .

On Becoming an Artist

Shifting Gears: Notes from a Practitioner of
Almost Everything but What I Was Truly Suited For

By Anne Garton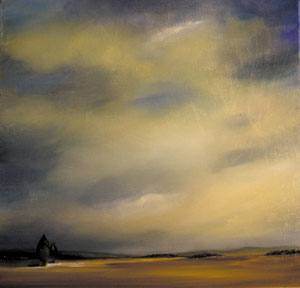 IT'S BEEN A LONG TIME since I've written much of anything, yet it wasn't so long ago that writing was my only means of expression. Now, I think writing is almost impossible. I can't imagine how I did it. Now, I'm a painter, an artist. I feel like I'm shifting gears in a very expensive car, effortlessly, from first to fifth. That smooth, satisfying surge of energy and power. That fulfillment.
It's hard to believe I've spent my entire adult life doing something other than making art. Art was what I set out to do over forty years ago, with my small talent and my big desire. I met my former husband in art school, and from that precipitous moment, all the "art" there was in me sloughed off like a snakeskin. It was 1964. There weren't a lot of women artists, anyway, and he was very good. He was the best, which was enough for me. We married as soon as he got out of school and, of course, there were the babies and a house and things to cope with.
When I was young, making art was both inconvenient and expensive. Plus I had some tough competition right under my nose. I thought writing would be a lot easier; I could write whatever little thought came into my head at the moment, which was always handy. And so I wrote copiously, on the side, while my working years were eaten up by the advertising business, sad to say, and a few other necessary occupations. When CapeWomen magazine was first published, I became a small writer with a small audience, something I appreciated.
But writing wasn't easier. It was always a bit painful, and if I had a voice at all, it came off vaguely fatuous to my ear. I was never completely satisfied with anything I wrote. I wasn't a Real Writer in the way I aspire to be a Real Painter.
After CapeWomen I made some very dim-witted decisions and worked assiduously at a whole lot of pretend occupations. I took so many wrong turns I felt lost in the end. And yet, by some miracle, on a late afternoon in a class for beginners at the Orleans Middle School, I suddenly took a right turn.
The Cape had never looked so lovely as it did that September day, all blue and gold under the softest light, which had everything to do with the perfect pleasure of what happened to me in that classroom.
I learned in those few weeks that painting is a lot harder (although not as hard as writing) and it's still expensive. I learned that I had no technique to speak of, but I did have a remembered sense of order and design, which stood me in good stead. There, at the Middle School, in September 2006, I rekindled an old love and opened up a huge desire, proving that an artist can fledge twice in a lifetime.
After that beginner's class I found Rick Fleury at the Cape Museum, a self-taught artist and a superb teacher. He makes a good painting look possible, which is inspiration of the highest order, and he has nerve. It isn't as easy as it looks, of course. His putative "Cape Minimalism" takes years of living and looking in all the right places, and he's very good at it. I learned that I have some of those skills too. His Cape landscapes have been floating in my head for decades. They're burned into my retina.
My biggest risk was trying to emulate him to the point of identity loss, and that was the last thing I needed. I groped around and found my own quirky style, which I think is the whole point. A good teacher at the right time is essential.
But what really turned me into a painter was the sublimity of where I live, here on the outstretched forearm of Cape Cod, about a mile from the bay and twice that to the ocean. I've tried writing about this place, but I never quite got it. I learned to paint the landscape because I could, eventually, and because my words didn't come close.
Now, when I fill in the Occupation line on those forms that are everywhere these days, I put down, un-self-consciously, "Artist." I would never have said "Writer," even at my most prolific, without a sense of dread and dishonesty.
As the American artist John Sloan said, "Although no one can make a living at art, art makes life worth living." I've found that to be true. Both clauses.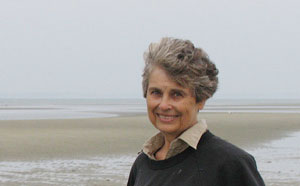 A former TV and radio producer, Anne Garton moved from Boston to Eastham full- time in 2001. For several years she consulted as a free-lance producer and writer as well as operating a small antique business from her barn in Eastham. She was the Poetry and Fiction Editor of CapeWomen magazine.
In September of 2006, inspired by the inexhaustible natural beauty of the outercape, she returned to painting after a long artistic silence. Her early Canadian influences still dominate her artistic sensibility, as she strives to distill her love of her natural environment into a profound and spiritual artistic expression.
www.annegarton.com
The Shirley Blair Flynn Center for
the Creative Arts Opens in Hyannis
THE ARTS ARE IN THE vanguard of change in downtown Hyannis. This spring, town officials, artists and their supporters gathered to cut a ribbon and celebrate the opening of the Shirley Blair Flynn Center For The Creative Arts on Pearl Street in Hyannis. When they did, a small part of a large vision was realized. For decades, Pearl Street has linked bustling Main Street in Hyannis with the busy harbor. Now this quiet street is slowly changing and becoming more high profile, and concurrent private and public art initiatives are at the heart of its transformation.
 Once a residence, the newly dedicated Shirley Blair Flynn Center now contains four studio spaces that are rented to artists. Shirley Blair Flynn was a local artist and one of the founders of the Guyer Barn Arts Center. A strong advocate for the arts in Hyannis, she purchased two buildings on Pearl Street in order to donate them to the Town of Barnstable to create an art center. Shirley and Pat Curcio, former Director of Guyer Barn, proposed the concept of the Town purchasing other Pearl Street properties and converting them into an art complex to house galleries and artists' studios. "Shirley and Pat passed away within a year of each other, and they would be very pleased to see artists living, working and teaching their craft at this unique Hyannis arts campus today," said Beth Dillen, Special Projects Coordinator for the Town of Barnstable.
 The Town of Barnstable, the Hyannis Business Improvement District, and the Arts Foundation of Cape Cod all united to realize this vision. Zoning changes were made, public hearings were held, and Downtown Hyannis was designated a Growth Incentive Zone. Finally, funding was found to purchase and renovate the properties.  
 Sarah Holl is the first Artist in Residence, with living space and a studio on Pearl Street, and the goal is to add four more artists' living spaces. A cooperative gallery at the site of the former Carriage Trade store opens in July; members of the new coop gallery include Anne Garton of Eastham and Shawn Nelson of Dennis. The nearby Guyer Barn, which is one of the oldest public galleries on Cape Cod, will be part of the Center, and eventually the Armory on South Street will be torn down and replaced by a 1000-seat regional performing arts center which will overlook the Harbor.
 The Breakdown Lane Gallery arrived first on the scene. A private gallery that is also a living and working space, it was founded by Meaghann Kenney, a painter and photographer. "I had heard rumors about the plans for Pearl Street, but when I saw this space, I knew it was for me," she said. Her purpose is to educate viewers, especially younger ones. To that end, her openings have voluntary admission by donation to support local charities, such as The American Heart Association and Toys for Tots. "People can do good when going out to a gallery." She also presents an eclectic mix of participational and studio art. Viewers are encouraged to use a digital photo booth, are given space to write remarks, and find a graffiti of quotes about art on walls and doors. "So long as they are learning, it is fine," she concludes. Her gallery is open year round.
. . . . . . . . . . . . . . . . . . . . . . . . . . . . . .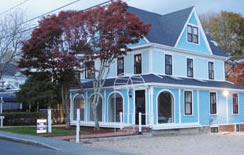 Beth Dillen gives credit for the project's initial success to Sarah Holl. "Sarah took a chance," Beth Dillen says. "She left her established studio space and had enough faith to see the possibilities. Having her name attached helps the project."
 "It was really a mess," Sarah says of her beautiful designed and painted studio and living space. "It took two months of hard work to get it ready. It feels good to be here, I like being around other artists, new people and different models. It is inspiring."
 Sarah Holl seems to be the perfect person for the project. She has lived and worked at her family's workshop, Scargo Pottery, where craft and art coexist, and grew up and thrived in an atmosphere of artistic ferment. "My art has saved my life," she says. "It has always been there, to turn to. It was another place to go." Holl's art focuses on the human figure and interiors, and she is inspired by flowers and horses. In her current work, she has been incorporating resins, gold leaf and pigments into her large scale paintings.
 Holl has begun to work the Guyer Barn into the art complex. "It used to be for exhibits, but now we teach classes in it and use it for display of students' work." For years she has taught life drawing, painting and portraiture classes in her studio for adults and teenagers, and those classes continue weekly at Guyer Barn. She has also taught at Cape Cod Community College and the Cape Cod Museum of Art.
 Two doors away on Pearl Street, at the Creative Arts Center, she is joined by other artists including Melanie Chartier, a native of New Bedford, who is an art teacher and framer; Deborah Donovan, who teaches art at Harwich High School and focuses on printmaking and painting; Molly Driscoll. a ceramic artist who makes functional and sculptural pottery; Jenny Fragosawho works in monotypes, encaustics and mixed media; Ken Gavin focuses on drawing, painting, mono-prints and collographs; Bernadette Waystack who works primarily in pastels; and Robert John Cook, a landscape painter.
 On a cloudy day this spring, Beth Dillen stood outside the Cooperative Gallery and envisioned the Pearl Street of the future. "It will be a unique streetscape," she said, "with banners and festivals and regular street closings for events and festivals, all just a short stroll from the Harbor." There are already plans for a Thursday open-air market beside Breakdown Lane Gallery, and in front of the Cafe Gelato Bertini. In one sense, all of this artistic activity is a reflection of Pearl Street's past. The Creative Arts Center was once a residence where artists, playwrights and poets gathered to read and share their work, and its basement walls are covered by murals by Vernon Coleman, all of which foretell its current and future use.
—By Jim Talin.
reprinted from: www.capeartsreview.com
. . . . . . . . . . . . . . . . . . . . . . . . . . . . . . . . .