Exploring Climate Change through Art at the Cotuit Center for the Arts
eARThchange, a visual interpretation of the environmental, social and political impacts of climate change will be on display at Cotuit Center for the Arts, in the upstairs gallery, April 3 through May 4, 2014.
This exhibit features creative responses to climate change in the environment through works presented by theater and art students from Sturgis Public Charter School's East and West Campus, in partnership with the Cotuit Center for the Arts and Barnstable's Growth Management Department.
Under the guidance of their teacher Anna Botsford, the Sturgis students created their own puppets for the show and have embraced the activist nature of the Bread and Puppet Theatre format, which was founded by Peter Schumann in 1963.
"This interactive art form has given voice to political and environmental protests from parades concerning the Vietnam War to challenging housing conditions in New York," explains Anne Healy, a junior IB Theatre student at Sturgis Charter School's West Campus, who is part of the Bread and Puppet Theatre presentation that explores the impact of pollution on ocean life, from seals to seaweed.
"Applying Bread and Puppets concepts to Cape Cod was not as difficult as it would seem, as the practice is a strong supporter of sustainable, environmentally friendly living that does not harm the Earth."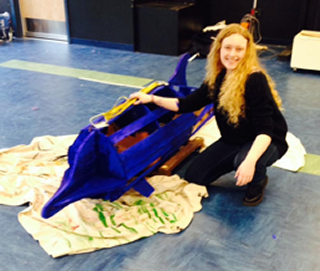 Anne Healey with a dolphin puppet
"Creating puppets and writing a piece together makes us unified in our efforts to demonstrate the negative effects that plague the Cape, and to inspire efforts to improve Cape Cod." The exhibit will also include several maps illustrating areas in Barnstable that may be affected by sea level rise, coastal storms, and other impacts of climate change.
"Overfishing in order to supply restaurants will also be a prominent theme in one of the two performances, and the effects on depleting the oceans to supply this industry will be developed in the piece," says Anne.
The show is designed to facilitate thoughtful conversations about this challenging topic from an artistic response, enhancing the community understanding of this complex topic.
"Sturgis' efforts to bring a Bread and Puppet Theatre to eARThchange will benefit the program, as it will raise awareness in the community, as well as demonstrate the involvement of the Cape's youth in becoming more understanding of the environmental changes that we will have to make to ensure the sustainability of Cape Cod."