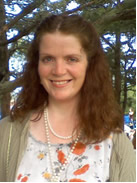 Nicola Burnell is the Publisher and a contributing writer for this magazine. In addition to writing her own novel, she teaches novel writing classes through Nauset Community Education. As part of the Cape Women in the Community initiative, she also teaches a series of creativity development classes, including the Artist's Way, at Masjah Studio, Danton Studio and the Hyannis Arts Center at Guyer Barn. For details about these classes visit this CWO Classes link.
Nicola has been a Reiki practitioner and Personal Empowerment workshop leader for over fifteen years. She is a member in Letters of the National League of American Pen Women and is Historian of the Cape Cod Branch.
Nicola is now offering a variety of FUN Events and Writing Retreats on Cape Cod. She will be offering Writing and Artist Retreats at Casa della Quercia, an historic villa in Northern Tuscany, in the Spring of 2013.
For details about any of her Classes or Events email Nicola@CapeWomenOnline.com.
You can also follow her blog "Nic's Novel Project" and on Twitter.
Nicola lives in Harwich with her two sons and several pets.