Gardening in Pots
by Janet Eckhoff
I recently read in Fine Gardening magazine that garden design is the slowest of all performing arts. Gardeners must have patience and sometimes wait years to see their work shape into something resembling their original idea. Spring is the time to dream and plan, but patience may be an over rated virtue.
When I return to the Cape after wintering in Florida, in mid April, I am mad to begin gardening. My head is spinning and I'm insane to get my fingers into the soil. Every year I'm just shocked at what passes for spring on the Cape. It's way too early to really do anything beyond more cleanup and leaf mulching. Not what I - or you - have been day dreaming about.
I've been an avid gardener for thirty years, but last year I experienced a revelation. My next door neighbor, Mary, who has a gorgeous garden, invited me to the Yarmouth Garden club. The speaker demonstrated a dozen ways to plant pots in late April and early May, before we dare plant anything in the ground.
These pots deliver instant gratification rather than the longer term joy of creating your garden dream.
They are especially nice because you can plant them a full month before it is safe to put your new annuals in the ground. Here are several ideas that worked for me last spring. These are all very simple and I'm ready to try planting more pots more this year.
I planted two pots with lettuce, mixing varieties of green and red for a contrasting visual impact. I did two pots so that after a couple of weeks I could start harvesting one of the pots and let the other one grow. This year I might do three.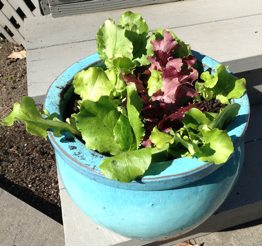 The colors of the lettuce leaves are beautiful. I keep them on the deck outside my kitchen door so they are handy for harvesting, while also offering me a visual pick-me-up. The first lettuce of the season tastes delicious and reminds me that the lovely summer vegetables are coming soon.