Hair Peace
by Beverly Ryle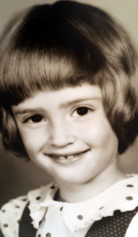 Beverly's first bowl cut
A few days after my first granddaughter's birth, I held her in my arms, looked down at the tousled black full head of hair she came into the world with and said a silent prayer. "Please don't let her waste as much of her life fussing and worrying about her hair as I have."
To date, my petition seems to have had very little effect on my granddaughter. The last time I saw her long tresses they were tastefully tinged with magenta. But I do mark this event as a turning point in my lifelong struggle to arrive at some kind of hair nirvana—a stylish hairdo that is right for me and can be maintained effortlessly by a woman whose dexterity with a brush and blow dryer is nil.
Not only have I always been unskilled in the physical care of what should be my crowning glory, there are psychological complications as well. My mother had gorgeous thick auburn hair that fell to her waist when not neatly braided into coils on the top of her head.
The little girl who watched her brush that glorious mane had fine, straggly hair which was unsuitable for braids, too wispy to stay in place and best managed with a bowl cut and bangs like the little boy icon of shoes. What female child wouldn't spend her later life trying to escape from an identification with " I'm Buster Brown, and I live in a shoe. That's my dog, Tige, and he lives there, too."
In my preteen years a well-meaning aunt, who empathized with my hair dilemma more than my mother, tried to help by giving me a permanent in her backyard a few days before I entered junior high in 1956. Performing this task "en plein air" was necessary because of the toxicity of the ammonia-based lotion used to break down the hair's structure, so it would take the shape of the metal rods it was rolled around.
It is indicative of my desperation to fit in with the more full bodied (hair and otherwise) girls in school that I was willing to endure the six-hour process of rolling, basting, neutralizing and waiting for the hair to dry. Unfortunately, the outcome was not the soft curls I had anticipated as a reward for my endurance.
To celebrate the completion of the smelly, messy ammonia part, my aunt and Mother made gin and tonics and although they set a timer to be sure I didn't "bake" too long the neutralizing step was delayed which resulted in rows of tight ringlets. My aunt, by then slurring her words, assured me that it would soften in a few days and my mother was upset with me for making a fuss, so my tears flowed into a pillow case which like my hair, smelled like the ammonia lotion every time it got wet.
Despite my best effort to observe and copy the hairdos of the most popular girls, I spent my high school years either being hopelessly out of step—when their hair was long and straight, mine was short and curly; when mine was long and straight theirs was short and curly—or unsuccessfully emulating stars like Joanna Harris.