While spiraling into the center of the Sanctuary in Avebury, I felt myself in two different lifetimes. I was a young priestess wearing a light, billowing dress. My hair was adorned with flowers and trails of petals streaming in the wind amongst the tangles in my long, blonde hair. I sensed the honor and responsibility being placed upon me. It was comfortable, and I was competent.
Moments later, as I got closer to the center of the spiral, I was a smaller, darker woman wearing a simple green tunic made of a thickly woven fabric. My feet were barefoot, dirty and callused from walking. This illuminated past simplicity and life with the land.
Each of these felt like a glimpse into my past. The significance revealed to me is that I have walked these many paths numerous times. Each had a different character with a different experience and a unique gift. I am called to take this all in at this moment in time in order to build the future.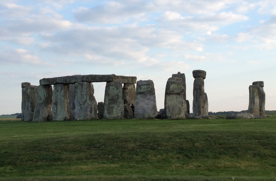 Prehistoric stones of Stonehenge, England
A significant part of my original call to take this trip was my life-long attraction to and feeling of affinity with Stonehenge.
As I physically stood in the center of the circle of huge, moss-covered stones, I connected with the powerful intention with which this magnificent multi-ringed sacred space was constructed, and the magnitude of the importance of this ancient cultural mandala. The ancient energy was soothing to my soul. Magical. Mystical. Magnificent. Truly, this surpasses anything words can express.
I found a new voice through poetry while on this trip. Both the content, and the way in which it "arrived" demonstrate the power of this journey. During a mundane bus ride, lines of poetry simply started to flow.
Although I love the written word, I had never composed a single line of poetry before. This opening was a concrete demonstration of my progress. Its occurrence during a lull in the travel itinerary helped me to see that the thread of a sacred journey is woven continually – not just at official peak experiences. Richness is often born in subtlety.
One poem, My Avalon Journey, began as lines of text. I then saw that I was to center the lines, which created an hourglass shape. This mirrored feelings I had written in my journal, that I went from loose to tight and back to loose, ending wide open. This reflects the magnitude of the unseen forces at work in my life, which foster my enlightenment and ascension.
Reflecting upon my trip, I conclude that yes, I did everything that I set out to do. My intentions were exactly right and now seem Divinely inspired. What did change was the depth to which I experienced each moment. My goals were surpassed exponentially and beyond anything that I could have conjured in my 3D existence.
All levels of my being were affected - the conscious, subconscious, super-conscious and perhaps the collective unconscious. Cousineau1 describes a pilgrimage as "taking the soul for a stroll" (p.25). This captures the depth of the experience that went far, far beyond the five senses.
My experience, ineffable in large part, was rich and multi-layered. Parts of my Being previously unknown to me were significantly affected by my sacred journey. I collected a beautiful, everlasting bouquet of my soul, colored by my past and adding depth, wisdom and grace to the present and to the future.
1Cousineau P. (1998). The art of pilgrimage: The seeker's guide to making travel sacred. Berkeley, CA: Conari.
Photographs courtesy of Bonnie Perry