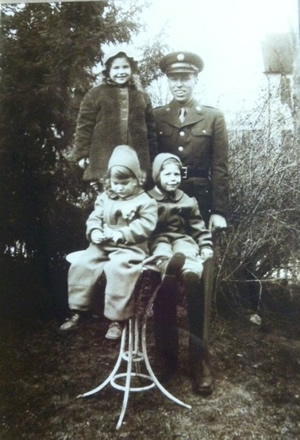 Uncle Rod (1944) with Pamela and her sisters
Along with much family history I included a letter that my Grandmother wrote to The New Canaan Advertiser:
A Mother's Letter, March 25, 1945
Editor New Canaan Advertiser:
Rod's father and I wish to thank you for your editorial and would like, through the medium of your paper, to also thank the many kind friends who have sent messages of sympathy. Because there are so many other parents who are praying for their sons safe return I search my heart for something to say that might be of comfort to them. From the bottom of my heart I hope they will know a happy reunion.
The courage our sons have shown must inspire us to courage.
The war is not all grim horror to these boys. They find a joy in comradeship and humor wherever it is to be seen.
From Kiska, that dreary remote island, Rod wrote, "In a drenching rain with the wind blowing a gale, we tried to erect cover for trenches dug deep into the ground. Just as we thought it was all set the whole thing was torn out of our hands and went sailing off in the wind. We stood there laughing heartily at our predicament."
The box of costume jewelry that some kind relative had sent a boy "for the natives" and the happy fishing trip before provisions reached them pictured in a snap-shot with the line on the back, "Today we ate," gave one a glimpse of a boy's ability to enjoy what to us would seem dismal.
From Italy he wrote, "I am learning Italian and should be able to speak broken English with ease."
His last letter gave no hint of discomfort or military engagements. It said in part, "It is a beautiful day here with that famed Italian sunshine which has been less rare of late. From where I am, I can look down on a peaceful valley lying among terraced hills. What a crime that war should go hand in hand with this!"
At first I was utterly crushed because my agonized prayers for his safe return had seemed all in vain. I had believed that good was more powerful than evil, and if one held staunchly to that faith no power on earth could harm my boy. I fought defeatism, any sense of fatalism.
No promise of a future was enough; I wanted this to be a life that mattered.
But through all this pain, my lifelong belief that the Creator is a loving Father brings a consolation nothing else can.
Rod has passed from all the love we could shower on him, to the infinite Love of God. Some glorious day we will be together again.
"He is not dead but sleepeth" and life cannot hurt him anymore.
He was a boy with high standards and through school and Army he never relinquished an ideal. He looked for and found the good in everybody.
Since his days must have been numbered it is something to remember with sad pride - death came as he went to the aid of a fellow man.
Let this be his epitaph.
Sincerely,
Edyth M. Conner, Rod's "Dear Mom"
Back to Mike in Italy...
Needless to say, in response to Mike Bonfiglioli, I was fully loaded with Rodney Conner's family history. With attached documents I sent letters, photos, birth certificates, you name it!
Here was Mike's response:
Pamela,
I am speechless! I will start making a few phone calls to friend editors to see if we can start thinking of going National. I think new generations should know what history is really about, beyond the dates and politics they learn in schools. Every single Italian should be grateful to those who died to ensure us a better future! I feel touched every time I hear stories about these young Americans that died for my country, but Rodney's story was always something special. Maybe because he was a Medic...Now I am even more touched!
Mike went to Mount della Piella the following week. He wrote about a special marker for Rod that he envisioned being placed there. He sent back beautiful images of the Mountains and the stone building where Rod's canteen was found.