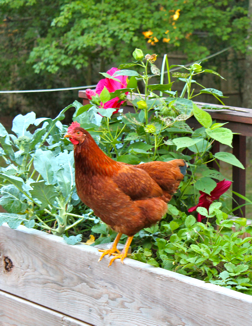 NewFarm: An Invitation to Embrace Sustainability
Cape Cod's first organic indoor/outdoor garden and micro-farm supply store
by Lindsay Cook
For as long as I can remember I have witnessed a growing disconnect with community, with nature, and with the production of our food.
We live in a time when the home-cooked meal eaten around the kitchen table is losing ground to fast food in the car; a time when our children are spending less time outside and more time in front of televisions and computer screens; a time when we are connecting on Facebook, but not connecting in reality.
Years ago, I decided that I wanted my life's work to be devoted to mending this disconnect. I wanted to provide a place for people to get together, share ideas, inspire one another, and support each other.
But that wasn't all. I wanted people to take this knowledge and inspiration home with them and use it to fuel their own projects that would help them produce food and connect with nature… locally, organically, sustainably.
The only question left in my mind was how, exactly, I was going to do this.
Over the years, my dreams and ideas have been shaped by countless people, including some you may be familiar with: Barbara Kingsolver, E.O. Wilson, Richard Louv, Michael Pollan… the list goes on.
Through their voices, I heard undeniable arguments about the results of our disconnect with the natural world, with food production, and with each other… increasing rates of depression; myriad diet-related health problems including diabetes, heart disease, and obesity; and a failing agricultural system that encourages the use of genetically modified crops and chemical pesticides while making it virtually impossible for our small family farms to eke out a living.
However, this isn't all I heard, I also heard optimism; the certainty that things could change; that the power of change rested right at our fingertips, we just had to reach out and grasp it.
Energized with a dose of blind faith and an added touch of stubbornness, I launched onto the path less traveled as I picked up my shovel for the first time and broke ground on what would be my first garden; as I carried a small brown box home from the feed store listening to the peeps of my first flock of chickens; as I took on one project after another, recognizing that the only way one fails is by refusing to try.