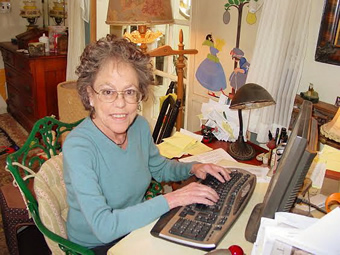 I felt very distant from the scene in our lunch booth. Pretty awful, actually. I knew that it was too late for me to ever feel her kind of enthusiasm again. I watched her, effervescent and brimming with life, knowing for sure that those kinds of feelings were behind me for good.
After we ate, we went for a walk down Main Street. We ran into her friend, Liz, who was also beginning new ventures. I had the oddest feeling. It was as if I was a hundred feet away, watching the two of them involved so excitedly in their lives and in each other. I responded when I was supposed to, politely going through the motions and answering, "How are you doing?" questions at the appropriate time. But my feeling was this – I'm too old to make their kinds of changes. They are just beginning new projects, filled with hope and new promise. I can't do this anymore.
It was simply too late. I had tried to become a writer but I had failed. I had crossed over a self-imposed bridge and was no longer part of the can-do crowd. I stood back, and watched Deb and Liz in their "prime." I was witnessing a younger generation soar. I drove home very depressed.
In my bedroom, I sat on the bed and put my head in my hands. Put it behind you, I said to myself. Being a writer is not as important as you're making it. Be happy with what you have. And just let that dream go.
Let that dream go.
I fell into distracting sleep. When I woke up, I felt just as lousy. I suppose when you use sleep as a drug, you don't feel any better when the drug or the sleep wears off.
I stayed in bed on that sunny afternoon and stared at the ceiling. And then, I had a life altering moment. Those moments don't come very often, believe me.
It was at that time that the following occurred to me: Who is making this decision to narrow my life because of my age?
Why me, of course.
Who's in charge of changing that?
Who do you think?
But in our eighties or nineties, we certainly don't want to look back and think – I wish I had written that novel. I wish I hadn't lived my life in an unhappy marriage. I wish I had moved away from my parents … or nearer to them.