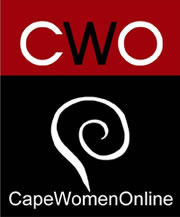 Cape
Women

Online - Where Cape Women Shine

Your local venue for the women of Cape Cod to share their ideas, experiences and resources while inspiring each other in their life's journey
Inspire

. Encourage .

Network

. Share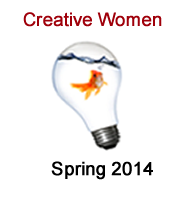 <
Elvis, Supremes, Alicia Keyes: Cape Harmony Sings Them All And Does Beat Box Too!
by Kim Baker
Take ten golden-toned voices. Put them in a house together on Cape Cod for the summer. Leave these female singing divas to doo wop, croon, ballad, pop sing, and beat box all day long. A cappella.
Then let them loose across the Cape in churches and on board walks, in nursing homes, schools, and at fundraisers singing their hearts out for locals, washashores, and visitors. We have even seen them strolling the cat walk at a fashion show!
Say hello to Cape Harmony!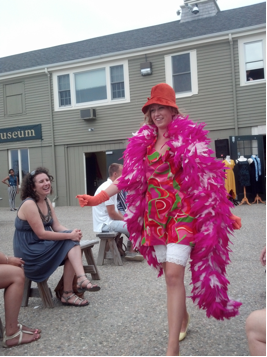 Cape Harmony member struts her stuff at the SHIFT Boutique Fashion Show to benefit the Cape Cod Maritime Museum in July 2013
Cape Harmony is Cape Cod's premiere all-female a cappella group, comprised of ten talented college-aged women from all over the nation who come together during the summer months to make their music.
Founded in 2006 by Melissa Paul and Alyssa Norton, Cape Harmony a cappella is fast becoming a fun summer tradition for audiences of all ages to enjoy. Soon to begin their sixth summer, Cape Harmony brings lively performances, superb quality, and a unique a cappella sound to fans all over Cape Cod.
I have heard them for two summers and can't wait to see what 2014 brings. Every summer, there are new additions to the chorus as some ladies leave after college and others join. And these women do everything in addition to sing. From public relations to finances.
Singing everything from standards to pop, the group believes "every song will be a hit to someone." Elvis. Supremes. Alicia Keyes. Taylor Swift. And you might get lucky enough to hear Old Cape Cod and Mr. Sandman.
Before a performance last June, I was lucky to sit with several of the members and get to know them better. The excitement and belief in the group and in each other is palpable. When I ask them what the mission of Cape Harmony is, Alaina responds: "We want to be recognizable, family-friendly, and make great music."
But all the women agree on one heart-felt goal: to be a role model to young girls. To inspire girls to believe in themselves. Hannah adds, "We want people, especially families, to want to keep coming back every year. But we love also going into schools and nursing homes, places where singing can touch as many people as possible."
Churches across the Cape have opened their doors and donated their space to Cape Harmony. From Sandwich to Chatham to Yarmouth, Hyannis, and Barnstable. The donated space allows the group to keep expenses down while building an audience. The group makes a CD of performances for sale on its website.
Cape Harmony has appeared on several radio and television stations and performed with Livingston Taylor, as well as the Air Force Academy Band. They have been featured in numerous newspapers and have brought their music to thousands of fans at concerts, music festivals, private parties, schools, nursing homes, assisted living communities, fundraisers and parades.
Their website www.capeharmony.com has information about 2014 performances, music, Cape Harmony merchandise, and the group members past and present.
If you have heard Cape Harmony, I know you will be going back this summer. If you have not heard Cape Harmony, what are you waiting for?!? Pile the kids, grandma, granddad, aunties, uncles, neighbors, and colleagues into the car and head to your nearest venue. You'll be tapping your toes and humming all the way home. But be careful. There is sure to be a young girl in your group tuning up her voice, waiting to audition for Cape Harmony when she grows up.
I wonder if Cape Harmony takes aging wannabees? Lalalalalalala.
Photographs by Nicola Burnell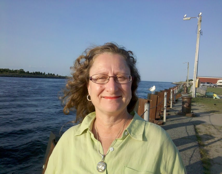 When she isn't teaching the abundant virtues of the comma at Roger Williams University School of Law, writing poetry about big hair and Elvis, and doing the Cha Cha, Kim Baker works to end violence against women.
Kim's poems have been published online and in print and essays broadcast on NPR. Three short plays have been stage-read at Culture*Park in New Bedford.
Kim's first chapbook of poetry, Under the Influence: Musings about Poems and Paintings, is now available from Finishing Line Press.
Kim is currently working on a book of ekphrasis poems about the stories and portrayals of women in the paintings of female artists. Kim can be reached at bighairedpoet@gmail.com.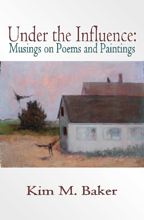 Click here to order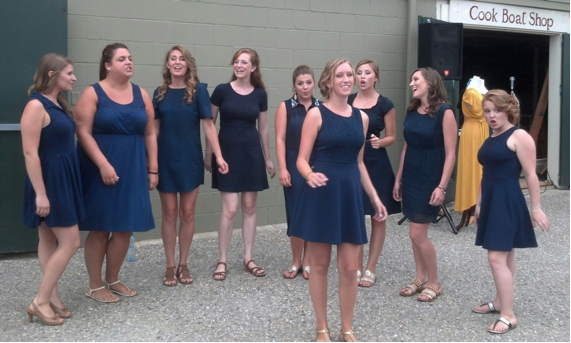 Cape Harmony perform at the SHIFT Fashion show in Hyannis, July, 2013