In her artist's statement, which was hung with the show, Tessa wrote poetically and metaphorically about these concepts:
These woods hold many wise words. If you are quiet and listen, you just might hear truth whisper in your ear. If you close your eyes you just might see the origin of your very existence. Yes it seems true we've been born into some evolutionary prose, but in disorder have forgotten the very root of our dependency. The roots which feed the very breath we so automatically forget…
I honestly had a hard time leaving peacefulness of the room to let others experience the exhibit. I snuck back in several times before reluctantly heading home to my still hectic life.
"The installations aim to offer a reflective and contemplative environment in reflecting on life, spirituality and nature as one interconnected reality. It is my goal to remind people of these essential foundations, to slow societal minds down and to open souls back up."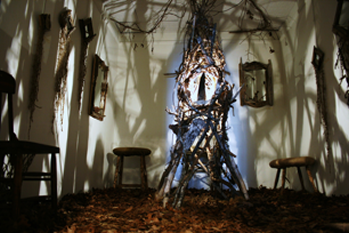 Tessa works in all different art materials from painting, mixed media, sculpture, jewelry and writing. "Pretty much anything I can get my hands on I consider an art material. I enjoy being a multi-media artist because it allows me to be able to formulate a conceptual idea and then to reach for whatever materials I feel would visually speak my thoughts."
Cape Cod offers the artist a seasonal wealth of inspiration. "Growing up on the Cape I've always had a fondness for the coastline and woodlands of the area. As an observer by nature, I naturally began observing the interconnected growth patterns in the natural world. I developed personal connections to certain conservation areas, beaches and marshes.
"I know that in the fall, if I head to the beginning of Race Lane in Centerville, I can expect to see luminescent yellows and oranges scream out through the surrounding Maple woods. Inside my soul an expected yet yearly surprise gives rise to exuberant deep breaths of inspiration; a fuel to work.
"During the same time of year, the Cedar Swamps of the National Seashore are like a fairy woodland story book. I can't help but delight in the thick green mosses and multi-colored sheddings of the season.
"In winter, I enjoy the peace and quiet, first steps in fallen snow, and the hibernating process of what's to come. Spring, for me, is truly the renewal and birth of the natural world. It mirrors the internal spirit of divine connection to my work and its muse.
"These cycles do something to me. They speak to me in energetic form and cause my thoughts to correspond in their delight. I often contemplate this connection as a sort of divine oneness with all things.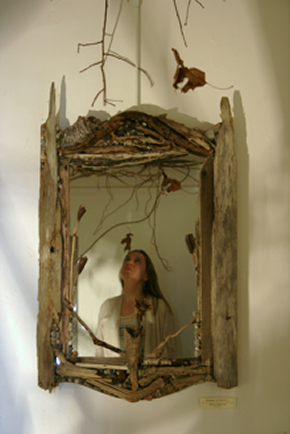 "I realize that not everyone will read into the depth of my thinking, but in engaging with the space I aim for curiosity and playfulness, but also an eeriness and a deep, unidentified feeling. It is these places of curiosity and deep sensation that grows thoughts and sensation both unpredictable and raw. I thoroughly enjoy making people wonder. However, I also thoroughly enjoy explaining."
In addition to creating art, Tessa also teaches a variety of art classes specializing in therapeutic and expressive arts at various organizations and residential facilities such as Riverview School, L.I.F.E. Inc., Esprit, Harbor Point, CapeCodCAN.
"I'd like to inspire young artists out there that they do not need to leave Cape Cod to have a successful art career."
Her art career began with an Associate's Degree in Visual Arts from Cape Cod Community College, then she left the Cape for two years to get her Bachelor's Degree in Fine Arts from Tufts University & the Museum School of Fine Arts Boston. "Cape Cod is my home and a huge part of my work. I was determined to create a successful art career here, and that's what I am doing."
Tessa is currently finishing her second commissioned driftwood mermaid wall sculpture and designs and builds a series of garden gates inspired by her original gate, "Transformative Passage of Earthly Balance" that was originally exhibited at Heritage Museum and Gardens and will be shown at the Hyarts Campus, on South Street, near the Guyer Barn in the summer.
To stay updated on upcoming events and to view Tessa's work visit www.TessaDAgostino.wordpress.com
To learn more about her classes and teaching methods please visit http://www.MakeInsideArt.com
You can also follow Tessa on Facebook