The last time I really indulged my passion for painting was during the summer, fourteen years ago, when I rented a house in Truro with my young sons. I'd applied for a studio at the Fine Arts Work Center, in Provincetown, and had been accepted. I'd gone there every day during the week to paint large canvases with brightly colored shaped bodies.
My parents came to visit, and when they looked at the work in my studio my mother remarked, "Who knew you had all of this inside of you waiting to come out?"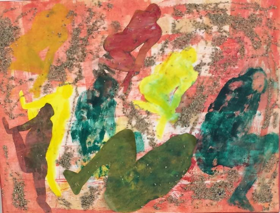 The Struggle
As usual my father grunted, did not say much about my work, but talked about wishing that he could do art with me and my sister somewhere. As we strolled through the Provincetown galleries, he remarked that we could have rented a gallery to exhibit our work together.
I knew it was never going to happen but I felt warmed by his words and asked him to accompany me to the open model drawing session at the Provincetown Art Association and Museum, (PAAM) that Saturday morning. He did attend and we silently worked on our sketches. I felt embarrassed to share mine at home later. I thought he was a much more talented artist than I could ever be.
After retiring in the summer of 2006, I began to feel artistic stirrings; saw colors in my head and shapes forming on blank canvases in my mind. I thought of my sister's words: "Get out of the basement. Go paint in a studio where you'll be surrounded by artists!"
So I trotted out my old work for the interview to be accepted as an artist into the River Street Artists Cooperative. They liked my lithographs from so many years ago, my paintings from years before. Feeling fraudulent because it wasn't recent work, I set out to do a large canvas immediately.
The three nude women I painted were flung across the canvas, united by stripes of red across their bodies and a blue background. I needed to show myself that I could still paint.
My mother is no longer alive, but I wish she could see this work and echo again her surprise at it coming out of me so rapidly and happily.
Sometimes I miss the chaos of my family home, filled with people of all ages, and responding to so many needs of others. Then I drive from my apartment in Cambridge to my Waltham studio, grab a canvas, one of my sketches and ponder what I'm going to do with it.
I know I'm lucky that I have this drive, this urge to express myself, which brings me a special warmth and peace. I realized recently that it is uniquely satisfying; other retirees tell me they envy my passion and wish they had something they wanted to do.
For me it was never a choice; it's in my veins, my breath and my head, spurting out whenever I let it.