Amanda Converse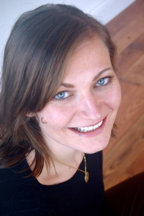 Amanda Converse received her BA in Environmental Studies from Union College, and her Masters in Environmental Policy from The George Washington University. She has held positions as an environmental consultant, and in various environmental nonprofits.
In July 2008 Amanda and her partner Jitka Borowick created Greenover, a green consulting company that helps individuals, businesses and organizations through the process of going "green."
Amanda was also the Development Director for the Hyannis Main Street BID from 2006 to 2010, during which time she worked with many small businesses on their marketing strategies and business models. And in November 2009, Amanda decided to open her own small business, Shift Eco-Boutique, an eco-friendly women's clothing and gift store located in downtown Hyannis.
Amanda has been involved with the Cape & Island's Green program since its inception, and acts as the Program Coordinator, conducting the workshops for participating businesses, as well as providing technical assistance throughout the verification process.
Cape Cod's water supply is certainly a thing of beauty. Not only does it provide both residents and visitors with a beautiful landscape, but it also supplies everyone with water for their personal and professional needs.