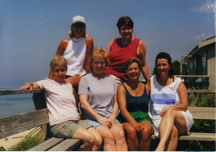 Thirty Years of Ladies' Cape Week
by Janet Eckhoff
Thirty years ago, while working as a marketing executive at GM in Michigan, I met my college friend Kate for a weekend getaway on the Cape.
After checking in at our B&B in Yarmouthport, we took a drive along beautiful, historic Route 6A, and stopped at the Brewster General Store.
You never know when a chance encounter is going to affect your life for years to come. Sitting on the bench in front of the store was Jim, a Detroit auto journalist I'd known from my PR job at Chevrolet. He was staying at a cottage at Ellis Landing and suggested we check it out.
We loved the quaint, decades old cottages that were scattered from the beach all the way back to the Old King's Highway.
By the end of the weekend Kate and I were besotted and decided to rent an Ellis Landing cottage the next summer and invite some friends to join us. That was the beginning of thirty-one years of Ladies' Week at the Cape…
A Benefit for the South Yarmouth Library
The Ninth Annual Holiday Cookie Stroll will take place on Saturday, December 13, from 10am – 3pm rain or shine, in historic Bass River, South Yarmouth.
The "ticket" is actually a cookbook with the recipes of all the cookies that will be served on this two-mile walking tour to ten sites, including seven private homes, the Cultural Center of Cape Cod, and – an added treat this year -- the Yarmouth Friends Meeting House and Schoolhouse.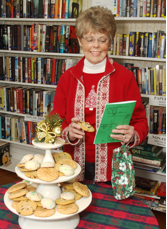 The cookbook comes with a festive drawstring bag for collecting cookies along the way. Free trolley transport will be available between groups of houses. The tour also includes an Open House at the South Yarmouth Library where cider and cranberry bread will be served.
Click HERE for the delicious details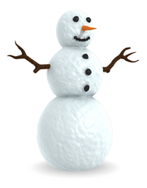 Support your local store owners this Holiday season!
The CWO Holiday Elves have rounded up details of your local Holiday events to help you plan your festivities. Our Holiday Happenings schedule lists (in alphabetical order by town) fun things to do from Bourne to Provincetown.
Click HERE for the detailed schedule
Happy Holidays from our
family to yours!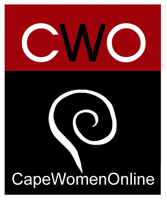 The Cape Cod Center for Women (CCCFW) is the only emergency shelter for women and children fleeing domestic abuse on Cape Cod and the Islands. We provide services for battered women and their children. We are a Beacon of Hope.
What distinguishes CCCFW?
Our services are customized to each client and include addressing the needs of children who have either witnessed or experienced violence.
The program at CCCFW involves esteem building, independent living training, and education.
Clients stay at CCCFW long enough to reap the benefits of appropriate counseling and to develop self-respect, confidence, and support systems that will increase their chances of avoiding a return to their batterer or falling into another unhealthy relationship once they leave the shelter.
Strengthening the Family
In order to help our clients rebuild their health, personal relationships and career skills, mothers and their children are offered medical and mental health care.
Both child and parent advocates work with the family in groups and one-on-one.
Click HERE to read more!