Barbara Strakele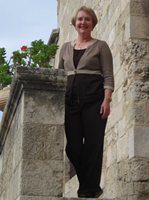 Barbara Strakele lives in Eastham with her husband, Bob. She is a prolific reader, writer and a community volunteer.
This story is a glimpse into her book-in-progress, "Anne with an E" about reversing roles and caring for her mother who had Alzheimers.
In this issue, Barbara reflects on Christmas 1957
We set up the Christmas tree on a Saturday in December. My four siblings and I had been pestering our parents all week because it seemed as if everyone else except us had decorations showing through their windows. Our dilemma was how to make space for the tree in the living room.