Beverly Ryle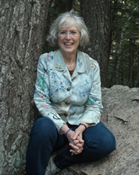 Beverly Ryle is a career counselor and business consultant. She has been helping corporate professionals, business owners, and people-in-transition achieve their full potential through education and empowerment for over twenty-five years.
Her integration of business, counseling and spiritual disciplines has made her a vital resource for clients seeking to grow professionally by overcoming habitual patterns in order to claim greater authenticity in their work and interpersonal relationships.
In her first book, Ground of Your Own Choosing: Winning Strategies for Finding & Creating Work, she focused on ways of achieving self-leadership in your professional life.
In her second book, Standing Alone (now under development), she turns her attention to helping people enhance their potential for leadership within the context of family dysfunction, including rampant, multi-generational addiction and mental illness.
She welcomes comments or questions on the site or by direct email to bev@beverlyryle.com. Read Beverly's blog at www.beverlyryle.com/newsletter-blog and check out her web site at: www.BeverlyRyle.com
What do you want?
If you think it's an easy question to answer, try this: write the words "I want" on successive lines of a legal pad or a piece of ruled notebook paper and make a complete sentence out of each, all the way to the bottom of the page.