Christina Laurie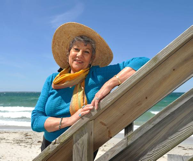 An award winning poet, Christina Laurie has written hundreds of poems and haiku, which have been published since 1976 in Canada, England, Japan and throughout the U.S. She has received numerous prizes for her works and has presented workshops for elementary schools, book clubs, community colleges and senior centers.
Born in Worcester, Christina raised her family in the Boston area and retired to Cape Cod where she volunteers, swims, golfs, bikes, kayaks, writes and skis. She is a former newspaper writer and editor and pastored United Methodist churches for a decade before becoming a Hospice chaplain.
She is presently the First National Vice President of the National League of American Pen Women, a professional group of women writers, artists and musicians. She also is a member of SCBWI (Society of Children's Book Writers and Illustrators), American Haiku Society, Academy of American Poets, Mass. State Poetry Society, Christian Writers of America, the Cape Cod Writers Center, Steeple Street (Mashpee) Poets, and Cape Cod Children's Writers.
Check out Christina's poetry blog at CreativelyChristina.com and read her weekly features on CapeCodChildrensWriters.com
Writing a book is the easy part. That is, after you tweak the characters, revise and edit and revise and cut and rewrite and revise.