Cindy Barg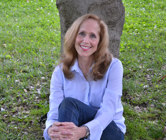 Cindy Barg is an intuitive licensed psychotherapist and highly respected consultant, public speaker and author, whose expertise lies in the areas of, but is not limited to: Grief, Loss, Relationships, Self-Empowerment, Transitions and "Getting Beyond Life's Stuff."
In 1971, Cindy was told she would never walk again or be able to have children, after a devastating car accident. To date she has conducted over 500 workshops all over the country & abroad (China, Malaysia, India), while operating a private practice & offering spiritual retreats on Cape Cod.
Cindy counsels and consults with individuals in person or via phone consultations. She is most recognized for her unique & gifted approach to healing, where she attempts with humility & grace to teach clients to tap into their personal power, grasping & gathering the threads of their life, no matter how profoundly tragic or joyful their circumstances.
For more information about Cindy and her work visit her website: www.gettingbeyondlifestuff.com
I never expected to be swept back into my own spiritual tradition when I visited an Ashram in India, in 1974. I was an exchange student living with a family who all decided that I might enjoy the experience of participating at a holy temple for a week, which was tucked away in a remote village on the southeastern coast of India.