Jessamy Scovil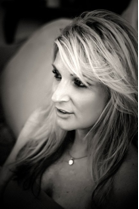 During her early thirties, Jessamy returned to college to complete her degree, where she studied African dance and attended workshops with Jeh Kelu Dance Company. She began to express herself through movement, learning to release stagnant emotional patterns and freeing herself to enjoy the act of moving regardless of external circumstances.
Recently, Jessamy has been establishing herself among the top Zumba instructors in New England. She received her Level One Zumba license in 2009, Zumbatomic (Zumba for Kids) in 2010, and her Zumba Level Two license in 2012.
Since receiving her licensure, Jessamy has continued both her dance and fitness education. Accomplishments include ISSA Personal Trainer certification, Flirty Girl Fitness certification, Yoga Fit Training – Level 1, Red Cross First Aid/CPR certified. She also holds an Associate Degree in Human Services with a minor in Psychology.
Jessamy has performed with Cape Cod African Dance and Drum, and continues her studies with TIDES Dance Company. Since joining TIDES, Jessamy has performed in various roles for Chatham's First Night program, as well as Chatham's 300th Gala Event and The Choreography Project.
Originally from Connecticut, Jessamy Scovil now lives in Brewster with her husband and two daughters.