Joan Anderson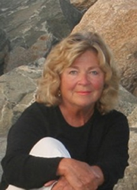 Joan Anderson is a Cape Cod author, motivational speaker, and unfinished woman who hosts retreats for other unfinished women in search of themselves.
Her first memoir, A YEAR BY THE SEA, was on the NYT best-seller list for 32 weeks, followed by four more books translated worldwide: AN UNFINISHED MARRIAGE, A WALK ON THE BEACH, A WEEKEND TO CHANGE YOUR LIFE, and THE SECOND JOURNEY.
She has appeared on Oprah, Weekend Today, Good Morning America and more. Joan also is the author of 16 children's books and a magazine journalist. Her non-fiction book, BREAKING THE TV HABIT, was the forerunner of "No-TV" week in schools throughout the country.
Joan's retreats, WEEKEND BY THE SEA, are held year-round throughout the United States, in the Cape, Costa Rica, and Iona, Scotland. For information about Joan's retreats click HERE
Visit Joan's website: www.joanandersononline.com
The call to a second journey commences when unexpected change is thrust upon you, causing a crisis of feeling so great that you are stopped in your tracks.