Johanne Kieffer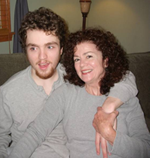 Johanne Kieffer is the mother of a young adult with autism. She is dedicated to helping Cape Cod Village open its doors.
Johanne holds a BA in Communications and is a Licensed Massage Therapist and freelance writer living on Cape Cod.
In this issue, Johanne shares information about how A Healing Shift in Energy
A woman I knew, whom I'll call Tina, was a boisterous spinster of 68 years with no partner, no living family or friends. She was diagnosed with inoperable uterine cancer at the end of June.