K.S. Mueller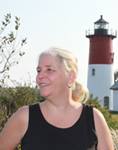 K.S. Mueller writes short stories about dogs, cats and other topics during her spare time from her "real job" as a travel executive.
Mueller lives part-time in North Eastham and the rest of the time in the farm country of central Massachusetts, with her significant other, Gil, their three dogs, Hobie, Charlie Brown and 3-legged Cooper; and three cats: Cali, Tux and Newman.
Mueller has shared her life with dozens of dogs and cats since childhood, and volunteers for several animal-related non-profit organizations, including the Eastham Dog Owners Association, where she is a member of their board of directors.
In 2010, she discovered a box of letters written by her late parents during WWII, and is currently publishing those letters in a three-volume biography of the Mueller family.
Visit her web sites at:
www.ksmueller.com , www.k2k9.com and www.fibroworks.com
I've been all over Western Europe and parts of the Caribbean for my work, but my big dream is to buy a small RV and take road trips with my dogs right here in the U.S.