Kathy Butterworth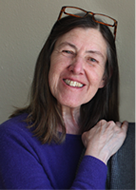 Kathy Butterworth lives and writes on Nantucket.
She is a member of the Moors Poetry Collective on the island and publishes from time to time both locally and in small off-island journals.
She is a health care advocate who has also been a ranger on a wildlife refuge and a reading teacher. She is currently writing about the artist who paints skies.
In this issue, Kathy shares some of her Summer Poetry
In The Red Cedar Savanna
My Child is Sick
My Grandmother Teaches Me to Make Raisin Rolls