Lynne Delaney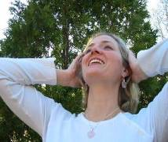 Lynne Delaney is a Conscious Living Advisor & Reiki Master. Her Reiki treatments combine intuitive energy work and crystals.
She offers private sessions in spiritual guidance, intuitive tarot, and hypnotherapy. Group sessions include table-tipping and transfiguration. With a background in science and spiritual studies, Lynne is able to better understand how both disciplines contribute to healing and well-being. To make an appointment, contact Lynne at (508) 241-3048 or email newconsciousspirit@yahoo.com
Lynne is also the editor of her husband's new novel Pieces of Eight.
Lynne Delaney shares two articles in this issue:
Great Beings of the New Dawn, this is a good season to celebrate the knowledge that you are a gift from the Universe and you are a gift to the Universe. You are a part of the big picture of creation, existence and all those around you.
My husband and I are standing in a field of tall wildflowers. Nearby we see a teenage girl with long blonde hair and a serene, kind of dreamy look. She smiles and beckons us over to admire a bush with vibrant lavender-colored petals. We exchange a glance, a shared expression of awe that this is our daughter…