Mary Ince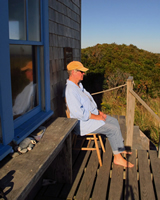 Mary Ince is a bi-coastal visual artist working in a wide range of media. Her art of choice is drawing, although she has an extensive background in printmaking.
She comes from a background of music and visual arts. Her parents were both musicians and visual artists. Her extended family included artists, as well.
Mary began her career with a BA from a small university in Redlands California, with an emphasis in graphic arts and printmaking. During this time she attended Sir John Cass School of Arts and Crafts in London, England.
The death of her first husband, at an early age, created a need to support her family of two young children. Mary re-entered the world of academia, ending up with a degree in Pediatric Nutrition from Loma Linda University in Southern California. After a successful nutrition career on both coasts, she settled on Cape Cod with her second husband. It was there that she re-entered the world of visual arts.
Mary currently maintains studios on Cape Cod and Santa Barbara, California. She has shown her work extensively in both locations. Over the recent years, she has been awarded several residencies. One was at the Vermont Studio Center, and the most recent, from which the work in her upcoming exhibit is derived, the National Park - OCARC Margo-Gelb Dune Shack.
The exhibition's body of work include previously done works on paper that respond to the mark making quality of Contemporary Chamber Music, and the antithesis of this: silence, which is the results of her OCARC Residency.
The waiting is killing me. This is the second year I've applied for the Outer Cape Artists in Residence Consortium (OCARC) program. They said my proposal of drawing silence in the Dunes was an intriguing one, but, last year was not to be. I'm hoping this is the year.