Mary Stack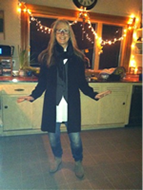 Mary Stack is a dual national. Born in London, her background is in producing network documentaries for British TV and writing for The Guardian newspaper, Elle and Newsweek.
Mary has worked in a variety of places from Heidelberg to Havana but has resided on the South Shore for nearly 24 years. She currently co-owns and works for Write Right Now, an SAT tutoring business.
Currently writing a memoir and dreaming of anchoring her own women's radio show, Mary would love to secure a bolt-hole in Europe, meet the ideal companion and solve global warming – but who doesn't?
Her kids are grown and successfully launched, currently leading vital, productive lives in NYC; maybe this is her biggest achievement. Oh - she still loves poetry and holds gatherings as often as possible.
How is it that we assign qualities or character to an empty space? But we do. Safe, solid, spacious and sacred - these are the words that I would use to describe my old house.