Wendy Shreve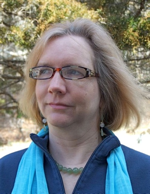 Wendy Shreve, a native New Yorker, grew up in the wilds of the Lower Hudson Valley, climbing trees, connecting with nature. With New York City at her doorstep, she found a launching pad to new horizons.
Whether teaching ESL in Singapore during the Persian Gulf War, taking a school group across ravines in the jungles of Belize, going solo in Bali, or drinking a toast to Picasso with a taxi driver in Provence, Wendy has never settled for the ordinary.
She received her BA at Smith College and MA at University of Montana. Along with teaching ESL at schools and universities in Europe, Asia, and the United States, her professional experience has included working as a freelance consultant, publicist and copy writer.
Cape Cod has inspired her to write the short story, Lamentations, published by Hamilton Stone for their Quarterly Review, and her novel, SHADOWWATER. For more information visit www.shadowwater.net
Follow Wendy's blog at www.shadowwaterwriter.blogspot.com
Follow her on TWITTER
Read Wendy's poetry at www.poetreecreations.org
The final phase came from conquering the depths, like free diving fathoms and fathoms down until you reach a quiet, surreal solitude. I had to push myself to go places I believed I couldn't reach.