Yvonne deSousa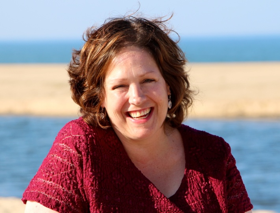 Yvonne deSousa didn't start writing until the age of 40, when a diagnosis of relapsing remitting multiple sclerosis began to threaten her sanity.
She quickly discovered that using her sense of humor helped her to feel like she was fighting back so she started a weekly blog on yvonnedeso usa.com.
Since that time she has been published in the anthologies Something on Our Minds, (volumes 1 and 2), Chicken Soup for the Soul: Finding My Faith, and now has her own book out, MS Madness! A "Giggle More, Cry Less" Story of Multiple Sclerosis.
I grew up a bookworm, an inherited condition from my bookworm mom. She was such a bookworm that when she had renovations done to our home the carpenters built bookcases into the walls. When it came to re-doing the room I shared with my older sister, my mom had two bookcases designed, one for each of us. It wasn't long before I filled them up.