Testimonials For CWO Classes
From Talking to Walking — Putting Your One Big Goal into Action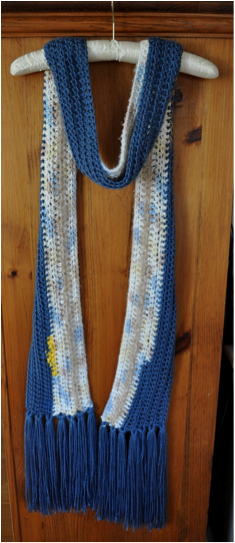 I was astonished to learn that the "One Big Goal" that I had at the beginning of this twelve week class turned out to be something I wasn't really interested in pursuing at all. Nickey's gentle prodding, my answers to the worksheet questions, and the give-and-take from the other women in the class helped me to come to an awareness of what I really wanted – right now - in my life. The class helped me to clear the cobwebs from my assumptions (misconceptions), and helped me to grab onto my creative urgings and go with them. I took a leap I would've rejected if it wasn't for Nickey and this class, and signed up for a weaving workshop. I found out I LOVE to weave.
The day after From Talking to Walking ended, I felt like creating something at home with fiber. I don't own a loom (yet) and I haven't crocheted in 20 years, but I listened to the little nudge inside me that I too often ignore, and purchased yarn and a scarf pattern. In the process of making the scarf, I deviated from the pattern by using multiple yarns. In my mind, I was using lines to create something out of the box — not my usual line of words to create a poem or a short story — but wearable art.
This scarf (I call it Here Comes the Sun), was inspired by the abstract art of Anne, one of the other women in our class, AND by my desire to work with my hands. See the sand, the sea, the sky, and the rising sun?
Thank you, Nickey, I'm having fun!
Diane McDonough
Nicola did indeed take us, as she promised, from "talking to walking". She helped us shine our lights on our own creative paths and commit to moving forward, one step at a time. She taught us how to recognize and analyze how we spend our time. Together, we pinpointed how and when we have worked against ourselves, due to uninvestigated beliefs.
She showed us how to make a practice of questioning our assumptions and "big ideas", which can loom large as obstacles in our paths, although they are most often inaccurate. Our negative assumptions tended to fall apart when we questioned them. Determining and taking positive steps towards creative goals articulated in class placed each of us on our own road to completing these goals, without the self-sabotaging effects of our "big assumptions".
This course was definitely a revelation to me, and to my creative life as a painter. Nicola provided us with helpful tools and clearly delineated methods to move each of us powerfully forward. This process of "action-learning" will guide my artistic output for years to come.
Thanks, Nicola!
Anne F.
This third class for me with Nickey was a challenge. The worksheets each week I found difficult. I knew my one big goal was to follow my desire to write. The fact that I was not alone, and each one of us in class had some life hurdles to overcome helped me a great deal.
This journey of twelve weeks uncovered a new idea and direction for me to pursue. The support of the group and Nickey's positive affirmation helped me to find a way to make it each day and to work around the life restrictions I face daily.
Thank you Nickey, and the English tea each week helped as well.
Debbie M.
Testimonials for Discover the Artist's Way
My artistic pursuits have always taken a back seat to my professional career. Being a busy Realtor I often work an irregular schedule. I finally said "STOP!"...I must schedule a special time for me to lose myself in my creativity, in a relaxed way, with no pressure.
When I discovered Nicola's 12 week Artist Way workshop, through a gallery friend, I was delighted to find it was going to start in the Fall, just when I was ready to make the commitment.
Nicola was an excellent facilitator for 5 women who did not know each other. We became friends as we went through various stages of personal discovery together. I really enjoyed writing the 3 Morning Pages each day and looked forward to our weekly meetings at Nicola's home.
Her gentle encouragement, cups of tea and support as I unpeeled my layers was evident from the first night. She is a woman of depth, intellect and integrity that makes you feel safe and happy while working on whatever may come out of the process. I personally made an artist date for myself every week...went to galleries...even crossed the bridge to Providence and Boston, and I made it a goal to paint at home and leave my messy studio to come and go as the impulse struck me.
Those 12 weeks were a real gift to me and I would recommend the workshop to anyone. I congratulate Nicola on being a wonderful leader of our group and now a new friend who is encouraging and enthusiastic for my artistic endeavors.
Phyllis Nickerson Power
www.chathamhomepower.com
The Artist's Way class (led by Nickey) was a lifeline for me. I had just moved back to the Cape due to two deaths in the family. My life was suddenly unrecognizable. The Artist's way helped me relocate my core, the unique qualities that make me "me". The group became a source of support as we met weekly and shared our process of rediscovering ourselves (many of us are still in touch 6 years later).
During the course, I gradually regained my strength and vision. The Artist's Way reset my compass and helped me get back in touch with my hopes and dreams.
Allison Argo
When I started the Artist's Way in April, I was looking for clarity, direction, trying to answer the question 'what now, what's next?' The next twelve weeks unfolded by doing the work, it kept me moving forward. The people drawn into this class seemed to organically come together and support each other in their creativity.
We ended the program by displaying our work and this creative process in an art show at the Guyer Barn Gallery in Hyannis. It was a feeling of joy and accomplishment, individually and collectively. Our creative fires were lit and our journey's had just begun. So Naturally, I couldn't end there. It seemed to follow that I take "What's Your Story?" class. There's no doubt that The Artist's Way pushed me forward, ready to launch into the next chapter of my life.
Johanne Kieffer
Because of Nicola's encouragement in the Artist's Way workshop sessions, my "inner child" feels free, not inhibited, not self-conscious. This is something new to me.
Dianne McD
When I signed up to take the workshop The Artist's Way last spring, I really had no idea what it was. I chose the course because I knew the facilitator, Nicola Burnell and thought it would be fun to take a workshop with her. Was I surprised to find that my hidden and blocked creativity would blossom and grow in the 12 weeks.
By following the tasks suggested each week, including the daily Morning Pages and the weekly Artist's Date, I discovered a dimension of myself that had been stunted at an early age, yet with nurturing and freedom to express itself began to grow and flourish. I learned that "art" and "creativity" are present in all of us, but in varying and unique ways. Each of us has the capacity to be creative in our own way, and learning to accept this creative state for my own self, rather than any external influence was the gift of the workshop for me.
I came to learn so much about myself through the process, and that the process of learning is truly what makes each of us an artist.
Debbie Hagen
Testimonials for What's Your Story? If You Don't Like It Then Let's Re-write It!
I am two weeks away from completing this program. Last week I realized my total energy had shifted. At some point, I let go of the fear, self-doubt and cloudy view that had blocked my path. I now feel empowered, centered and confident.
Johanne Kieffer
Nicola provided us with possibilities. In her class she empowered us, encouraged us to stretch beyond our old confinements. Thank you, thank you, thank you!
Dianne McD
Testimonials for Stop Talking About Writing A Book – Just Write It!
The encouragement I've received in my writing group has taught me to challenge myself in my creative potential. Nickey uses a gentle but firm approach in guiding our skills. The safe atmosphere for writing and reading has been extremely beneficial in developing my ability to write.
Marie W
Nickey works so hard to bring out the best in us as writers. Equally important, she does this in a non-threatening, constructive manner. Classes are a safe haven, filled with much humor, in which to hatch our creative talents. I always look forward to Thursday evenings with much pleasure.
Paul F
This writing class is such fun - all that laughter! Thank you, Nicola, for your comments. You called my piece 'inspiring.' I think you and this group are inspiring. I'm beginning to feel that I am among caring writers and friends. Joining this group may just be one of the best decisions I've ever made.
Katharine D
Nicola Burnell is the Publisher and a contributing writer for this magazine. In addition to writing her own novel, she teaches novel writing classes through Nauset Community Education. As part of the Cape Women in the Community initiative, she also teaches a series of creativity development classes, including the Artist's Way, and several writing classes at Danton Studio and the Hyannis Arts Center at Guyer Barn. For details about these classes visit this CWO Classes link.
Nicola has been a Reiki practitioner and Personal Empowerment workshop leader for over fifteen years. She is a member in Letters of the National League of American Pen Women and is Historian of the Cape Cod Branch.
Nicola is now offering a variety of FUN Events and Writing Retreats on Cape Cod. She will be offering Writing and Artist Retreats at Casa della Quercia, an historic villa in Northern Tuscany, in the Spring of 2013.
For details about any of her Classes or Events email Nicola@CapeWomenOnline.com.
You can also follow her blog "Nic's Novel Project" and on Twitter.
Nicola lives in Harwich with her two sons and several pets.