Sara's Christmas Puppies
by Caryn Welz-Ritchie
December 25, 2001, was the first Christmas we spent in our Cape Cod home. We had bought the house five years earlier but didn't move here until 2001.
It was a very special time because both my sons were home from college for the holidays and my mother was also able to be with us. We had just lost my dad, the previous year, and this was our whole family together for the first time in our new home.
Also in attendance was our Golden Retriever, Sara. She was my baby girl, the only one left at home once the boys moved off to college. She was a wonderful help with my empty nest blues.
At this point in time, Sara was also pregnant. We had bred her in October and were expecting puppies sometime before the New Year. I thought lots of puppies would help me to miss my boys less.
So here we all were, the night before Christmas, and all through the house not a creature was stirring. We were all tucked up in our beds dreaming of sugarplums when what should appear? It was Sara, in our bed, making a nest of our blankets and settling in to deliver her puppies. It was 4am Christmas morning and Sara was ready to deliver presents for all of us.
We moved Sara downstairs to her whelping box and settled her in to await the blessed event. There was plenty of room at our Inn for all her babies.
My Mother and the boys awoke and came downstairs with abound. The tree was lit, the candles were in the windows and it was snowing slightly. It was the perfect setting for a miraculous birth.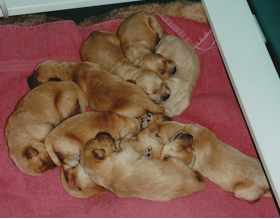 We put on the coffee and sat with Sara by a cozy fire and waited until she needed us. Her first puppy came about 6am, a perfect little girl. Throughout the next five hours, Sara delivered six girls and three boys.
My son, Kevin, videotaped each birth and later set the whole sequence to music.