by Barbara Strakele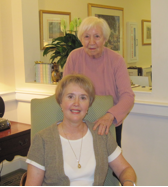 We set up the Christmas tree on a Saturday in December. My four siblings and I had been pestering our parents all week because it seemed as if everyone else except us had decorations showing through their windows. Our dilemma was how to make space for the tree in the living room.
Dad was in a good mood because he and Mom were going to a wedding that afternoon and he was looking forward to getting dressed up and dancing with her.
He carried up the artificial tree from the cellar, with us trailing right behind him, our arms filled with bulging bags of tinsel, glass balls and tangled strings of fat colored lights.
The skinny little tree was squeezed into the corner by the steam pipe, one side of it crunched against the TV stand and the other side reaching over the arm of the couch. Dad let us stand on the couch to place the ornaments on the upper branches.
Afterwards, I spent most of the afternoon pouring over the Sears Christmas catalogue - the "Wish Book". It was a huge edition, as heavy as the phone directory, and featured a little girl on the cover. Only Mom and I were home. It was quiet because she hadn't yet turned on the radio.
I relished having the kitchen table all to myself and knelt on a chair as I flipped through the pages of cowboy items and baby toys until I got to the good parts, where I could get ideas for my list to Santa. …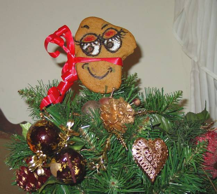 by Saralee Perel
Thirty-seven years ago, a young girl made Christmas cookies for the very first time in her life. All of the cookies came out of the oven looking beautiful . . . except for one.
As she picked up the misfit cookie to put it in the trash, she suddenly stopped and looked at it closely in her hand. Something about throwing it away simply because it was misshapen didn't feel right to her. "Just because something is different," she thought, "doesn't mean it no longer belongs anywhere."
So she kept the cookie. She even made up a word for it. She called it a woodle. With colorful paints, she gave it a face. This made it seem almost alive. The girl decided not to tell anyone about this new treasure.
Late that night, when the others were asleep, she sat by the light of an old oil lamp and wrote this story …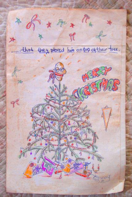 The Woodle Card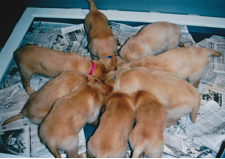 by Caryn Welz-Ritchie
December 25, 2001, was the first Christmas we spent in our Cape Cod home. We had bought the house five years earlier but didn't move here until 2001.
It was a very special time because both my sons were home from college for the holidays and my mother was also able to be with us. We had just lost my dad, the previous year, and this was our whole family together for the first time in our new home.
Also in attendance was our Golden Retriever, Sara. She was my baby girl, the only one left at home once the boys moved off to college. She was a wonderful help with my empty nest blues.
At this point in time, Sara was also pregnant. We had bred her in October and were expecting puppies sometime before the New Year. I thought lots of puppies would help me to miss my boys less.
So here we all were, the night before Christmas, and all through the house not a creature was stirring. We were all tucked up in our beds dreaming of sugarplums when what should appear?
It was Sara, in our bed, making a nest of our blankets and settling in to deliver her puppies. It was 4am Christmas morning and Sara was ready to deliver presents for all of us.
We moved Sara downstairs to her whelping box and settled her in to await the blessed event.
There was plenty of room at our Inn for all her babies …
by Debbie McNaughton
The year of my sixth Christmas had arrived. I'd decided dolls were for babies. I was older now and fancied an outer space hero…a robot!
I wanted to be COOL, a word my older brothers, Carl and Robert used when they watched the television sci-fi shows.
Space helmets and ray guns were okay, but nothing was quite as cool as having your own robot. I could fight evil or terrorize the earth. Why I would want to at the age of six I wasn't sure, but it was a major kid fantasy at the time.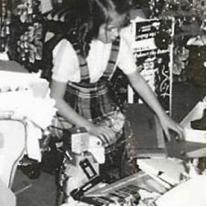 I imagine it presented some dismay to my mother. "No Mum," I'd pout when she asked if I'd prefer an Easy Bake Oven to prepare tiny cakes for my father's lunch box.
When all was said and done, she helped me to write my traditional letter to Santa. I bragged about how I'd been a good girl, did my chores, and prayed for all the unfortunate kids in China who had no vegetables for dinner.
The letter was perfect. No way would Santa let me down. The robot would be in his goody-filled bag for sure!
Finally, Christmas morning arrived. Like the previous five, the bearded plump one had been too fast for me, and had eluded my attempt to catch him, red-handed, leaving the presents under our tree.
As usual, Dad gave his standard believable performance in response to my woeful sighs …