As usual, folks would slam their doors
saying, "I have no use for you."
So he'd brush off the snow and try again,
but others would slam their doors too.
Soon he was ready to give up all hope
of finding a reason to be.
He walked down the street with his head hung low.
"I think it's all over for me."
Oddly enough he saw one more house.
On the door there were ribbons and pine.
There were little dog prints throughout the yard.
"I guess I'll try one more time."
From the chimney came smoke that smelled so good.
Through the window he saw a tree
that sparkled and glowed with love and warmth.
"Oh, what a fine family!"
He peered in the window for a closer look.
This tree was a sight to behold!
It held cookies and candles and ribbons and balls
and lights that glowed red, green and gold.
It had popcorn and berries with presents below.
His eyes filled with tears just to gaze.
"Boy, would I like to be part of this home
and be loved for the rest of my days."
His presence was recognized quickly.
A puppy had barked from inside.
The husband and wife came to the door.
"I wonder if I should go hide?"
But it was too late, he was spotted at last.
"Oh I know they'll have no place for me."
The woodle was taken into the home
and brought forth for the family to see.
And then he was given a most special gift.
They gave him a reason to be.
For the husband and wife loved him so . . .
that they placed him on top of their tree.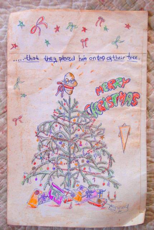 The Woodle Card