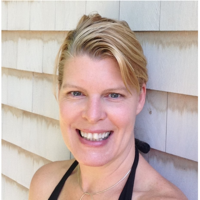 by Kim Baker
I first heard Christine perform poetry at the Cultural Center of Cape Cod. Open mic. She laid down a poem so emotional and honest that I left wondering who this powerhouse was.
A year later, I listened to Christine mesmerize the audience again. This time, she read a poem matched with a work of art for the Cultural Center's annual Mutual Muses show. It was brave and open, as if I were looking into her soul, her demons, her triumphs in a poetic movie about her life.
But nothing quite prepared me for Christine's signature show, Fat Ass Cancer Bitch (FACB). Christine performs FACB each summer at Cotuit Center for the Arts. Not only is the delivery riveting, but the stories are intelligent, insightful, and achingly honest. And don't forget the kickass sense of humor.
When I asked Christine why she chooses performance art to tell her stories, she said: "There's nothing like hearing a good story well-told. The immediacy and visceral impact of live performance are thrilling for both the performer and the receiver - that arc of human reciprocity from the stage to the audience and back is crucial to the story's impact - that kind of intimacy is vital to the work." …
by Joan Anderson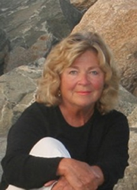 The call to a second journey commences when unexpected change is thrust upon you, causing a crisis of feeling so great that you are stopped in your tracks. Surely the economic downturn has stopped many of us in this way. But the truth is that in midlife most people have had to face monumental change: a betrayal; a diagnosis of serious illness; the death of a loved one; loss of self-esteem; a fall from power to name just a few.
Yet if we are able to face our various dilemmas, we might just be rewarded with a new reality. It makes sense, too, that finally - when the power of youth is gone and dreams of earlier times seem shallow and pointless - an authentic awakening can occur.
However, what accompanies such a potentially great moment is the dreaded need to address the tough questions many of us have, until then, been able to avoid: What am I meant to do now? What truly matters? Who am I, and who could I become?
I was at such a juncture some years ago - a woman trapped inside a person she no longer knew. Having lived my life mostly for others, I had gradually become restless and unhappy. …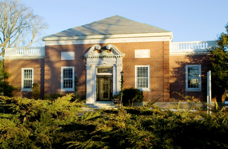 by Lauren Wolk
Trying to describe the summer events at the Cultural Center of Cape Cod in under 1000 words is like trying to fit an elephant in a thimble. A sampler should suffice, however, to prove that the Center's motto - All the Arts for All of Us - is a perfect fit.
While the final phase of a construction project to build a new Education Wing continues, the Center does a daily juggling act to find space for the dozens of events, exhibitions, and educational opportunities that fill its calendar to overflowing.
"We host hundreds of events every year in order to fulfill our mission, pay our bills, and maintain a culture of inclusion and support," says Executive Director Robert Nash.
"Emerging artists exhibit alongside those who are well established. Performers range from internationally recognized musicians and poets to local bands and writers just starting out. And our classes are geared to a wide range of ages, abilities, and interests. It's all about balance and inspiring creativity in everyone who comes here."
The Center's summer events range from concerts (14 on the books so far) to readings, films, wine tastings, foreign language soirees, receptions, fundraisers, and festivals.
Some performers will be back by popular demand, including the New Black Eagles Jazz Band, Kate Taylor, pianist Silvard, an Evening of Sneak Peeks and Highlights …
FREE summer concerts in Hyannis run through July & August on Main Street, the Village Green, at Aselton Park & Hyannis Harbor

The Hyannis "HyArts" Cultural District is alive with the sound of music! Enjoy FREE concerts and other entertainment, all summer season, around downtown Hyannis. Bring your blankets, chairs and dancing shoes and celebrate the season with song. All events are family friendly.
Free parking is available in the Town Hall parking lot, 230 South Street, and public restrooms are available at Bismore Park on the Harbor.
Attendees are encouraged to bring beach chairs or blankets…dancing shoes are optional! No rain dates. Performances are subject to be cancellation or change without notice.
Hyannis Village Green
Hyannis Village Green Bandstand, Main Street …
Hyannis Main Street
Aselton Park
Aselton Park, Hyannis Corner of South and Ocean Street …
Hyannis Harbor Artist Shanties
Come down to the HyArts Artist Shanties at 180 Ocean, in Hyannis and enjoy a variety of music, several days a week …