Alicia Mathewson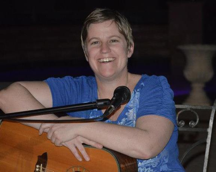 Alicia Mathewson is a singer, songwriter, healer, teacher & writer.
After 12 years in NYC and 1 ½ years in the Middle East, she is now based back home on Cape Cod, and willing to serve wherever her breath may lead.
Inspired by singing 40 chants in 40 days as a part of her 40 and Fabulous! fundraising campaign (July 15-24, 2011), her most recent CD, 2012:Isn't it Amazing: Songs & Chants for the New Vibration, was released on March 22, 2012. Her pure voice and inspiring songwriting creates a powerfully healing vibration and is an impressive and more expansive follow-up to her 2009 release Winds of Sinai.
An accomplished guitarist, yogi, and music educator, Alicia founded Sounding Still Wellness in 2011, providing music lessons, energy healing, meditation classes, and transformative coaching.
To learn more, please visit www.aliciamathewson.com or www.soundingstillwellness.com.
In this issue, Alicia reflects on how to Be the Light .
Growing up on Cape Cod, lighthouses have always been significant. It wasn't until after my mother passed, in 2007 that I began to understand how we, as human beings, can be lighthouses. My mother did it without thinking; it was her great gift. She would light herself up from inside and help guide others simply by being who she was.