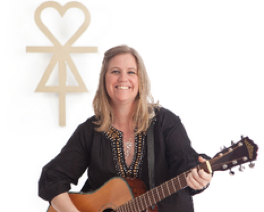 Click here to listen to Alicia Mathewson's song
Be The Light
When we lose someone, especially someone as centered as my mother was, the holidays can sometimes feel empty and painful. At the same time, the rituals and passions we shared can comfort us; the decorations, music, connection with others.
Even though it may feel painful, or like "someone is missing", we can always connect into our heart knowing that sometimes, when we allow ourselves to truly feel loss, we can also experience deep joy and happiness.
Now, over 7 years since my mom left the planet, I am finally becoming my own lighthouse at the holidays, truly lighting myself from within in service of all who may need guidance or inspiration.
This process of creative awareness and of becoming is my greatest passion and this time of year, with all its natural darkness, is a magical time to truly BE THE LIGHT. I wrote this song as a message to myself and it's my greatest happiness to share with you.
May your heart and holiday be lit up from inside this year and may you serve others simply by being.
Click Be The Light to listen to Alicia's song.