Diane McDonough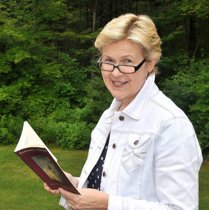 Diane taught high school English and was a high school librarian in the Taunton area for twenty-five years. Since moving to the Cape last October, she's been living her dream — writing, taking photographs, and meeting inspiring Cape women.
Diane's ekphrastic poetry has recently been exhibited (with paintings by visual artists) at Highfield Hall, Falmouth, at the Wickford Art Association (Wickford, RI), and currently, at the Green Brian Nature Center, Sandwich. She lives with her husband, their dog Journey, and their cat Sam-I-Am in Marstons Mills.
Diane welcomes your comments at drmcdonough3@comcast.net
Patricia Taylor is a mother, grandmother and a construction worker with a Construction Supervisor's License. She loves to work with wood. She's renovated and winterized her own home; converted a van to a camper; and has empowered families by building homes — and kayaks — for Habitat for Humanity.