Ellen Raquel LeBow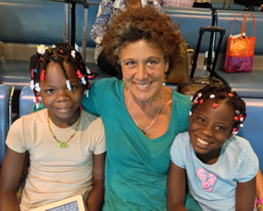 Ellen Raquel LeBow is an artist from Wellfleet and Cambridge, MA who shows at the Rice/Polak Gallery in Provincetown.
She is the coordinator of ART/MATENWA and RARA, a local project that works to bring sustainability through art to women in the village of Matènwa. Haiti, and is on the founding board of Wellfleet Preservation Hall.
She lives in Wellfleet with her long time partner Seth Rolbein and their two goddaughters Hernitte Riviere and Woodmyha Rafa Luma.
To learn more about Ellen's work in Haiti visit:
www.artmatenwa.org
The other day the two 10-year-old Haitian girls Seth and I recently brought home to live with us had an announcement: Because people found their names too difficult to pronounce Hernitte Riviere and Woodmyha Rafa Luma had decided to change their names to "Linda" and "Lindi".