Children and animals worked alongside adults. Dust and rocks were the medium in which our lives moved. Rough farming and carrying water ate up peoples' daylight hours. There was no visual art in the lives of the very poor. No one owned a pencil.
But there was an innate creative desire.
At first I was terrified, then amazed, by the voracity of the children who poured out the school gates and into our little makeshift "art center" every afternoon, as hungry for art-making as the adults. We had nothing but pencils, glue, cement bags, copy paper and a little paint, but it didn't matter, everyone was ready to make an image.
It was this type of hunger that drew me back. As an artist, the elemental urge to express what you know and find honor in what you'd done is a virtue I felt compelled to feed. They showed me it was not a privilege but a human right that roots its way through all political, class and cultural divides.
But alongside the need for art where there isn't any is the need for money where there isn't any.
Money: that lack between you and food, clothes, medicine, education, and a peaceful home. If we could marry earning to art making, Chris and I thought, how sweet a union would THAT be?
Women kept the families together. By the end of my first stay it was clear that an artistic skill Matènwa's women could enjoy learning – producing a product we could bring back and sell - could help them stabilize their lives.
The technique had to be low-tech, expressively satisfying, easy to transport, and could not waste scarce local resources like wood and water. Within a year we had eight mothers painting silk scarves on Chris' veranda. She showed them how to keep business records and I helped design and refine images.
By the next year the first group taught their craft to six more women and the year after that a substantial grant helped us build our own "Sant Atizana," Creole for Arts Center. Demand for a place in the group became overwhelming. Every day women walked miles to leave letters begging to join the Sant.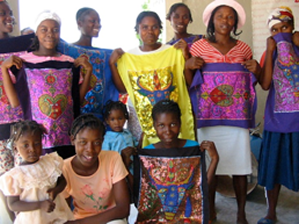 To meet their needs we eventually expanded until we had 45 artists silk painting, embroidering, beading, printmaking and drawing.
Organizing such a big place was going to be crucial to its success.
Principles had to be developed and voted into place. We depended on cooperation, respect for tools and materials mattered. Any form of violence was forbidden and participants and their children had to stay in school. Managers had to be elected and a managing committee established. Materials had to be stored and regulated, quality had to be kept up.
Big growth was not without problems. More artists meant more products that needed to be sold.
The American market, fickle world economy and private fundraising were not dependable year to year and often the artists had long stretches without work or money.
Materials not found locally have to be brought over by us, or anyone we could cajole into making the long and difficult journey to Matènwa.
And the earthquake of 2010 took its expensive toll on the homes of the artists' families.
Still, the project attracted more and more Cape Cod visionaries.