Jane Schaller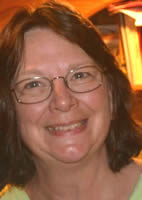 Jane Schaller is CapeWomenOnline's "Web Princess". She has an AS in Web Design/Development from Cape Cod Community College. In addition to writing for the former print version of Cape Women magazine, she has authored articles for CWO, such as Rebuilding NOLA, Bearing Witness to NOLA and Elizabeth Mumford: The Art of Marketing Nostalgia.
Jane has had a long career as a community volunteer, including serving as President of the Junior League of Northern Westchester (NY), Junior League thrift shop coordinator, chairing numerous church fundraisers, delivering Meals On Wheels and acting as assistant to the Executive Director of the National Organization for Women in NYC during the fight to pass the Equal Rights Amendment.
In her spare time, she enjoys knitting, using her Certificate in Desktop Publishing from CCCC to create cookbooks on her treasured computer (some as fundraisers and others for pure fun), teaching herself to sew and spending time with friends and family.
Mother to three grown daughters, she resides in the Web Princess palace with a crazy Cocker, cute kitty and highschool sweetheart husband, Bill.