Elizabeth Mumford: The Art of Marketing Nostalgia
by Jane Schaller
Take a reverent, spirited Indiana farm girl, fold in dollops of raw artistic talent, and sprinkle with plenty of genteel, classic culture. Gently toss with integrity, then marinate inside a fanciful Cape Cod home until ripe and ready to sizzle.
Yield: The rare, smooth blend of deep artistic passion, accentuated by enduring commercial success that is Elizabeth Mumford.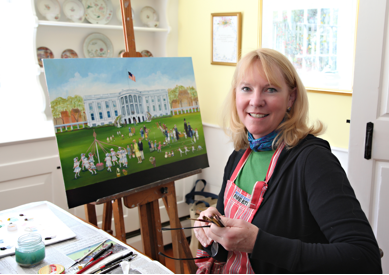 "I'm one of those persons who, ever since I was little, I was always painting and drawing and doing artwork," Liz recalls "Fortunately my mother was very encouraging of me." But there were not many opportunities to nurture a budding artist in the rural elementary school she attended.
That changed when she was sent to a boarding school in Michigan that possessed a strong art program. At twelve years old, she was all at once immersed in an array of art classes and experiences, including one seemingly innocuous course offering: Life Art.
"We freshmen didn't know what we signed up for," noted Liz. "We were a little surprised the first day of class." Life Art turned out to be live nudes.
"I thought we would be out drawing trees and plants," she grinned.
Elizabeth Mumford's eagerness for learning took her to Smith College where she majored in Studio Art, while satisfying her father's preference for a classical education by taking a repertoire of liberal arts courses. Her fervor for knowledge was matched by a budding fondness for teaching, primarily Art History. First at Seabury Hall in Hawaii for four years, followed by five more years back in the Indiana farm country of her roots, teaching elementary school art at a private school.
The decision to pursue a career as an artist was yet to come.
"I knew I wasn't going to go out painting for a living," she reflected, "I mean, that's a very difficult thing to do."
The desire to enhance her skill set beckoned. Spending two lively years taking art and anatomy courses at Tulane University, while socializing with family and friends, improved her confidence and generated layers of experience.
Summers spent at the family home in Hyannis Port became a year-round residence when her mother handed the home over in the early 1980s. The fact that it was not heated created only momentary angst. "I bought a wood stove and learned how to use that and I lived very happily here, painting."
Although trained to work in contemporary abstract expressionism, she bucked the system and chose to paint what she always loved: American Folk Art. She was inspired early on by classes taken in Tole painting – decorative brushwork on tin, often seen on backs of chairs – from a teacher in Yarmouth Port. This, among other influences, led to further interest in using oils on canvas to create a similar motif.
It was a slow process in the beginning, studying and copying the methods from books in order to get the feel of it. Later, she became inspired by words found in Benjamin Franklin's Poor Richard's Almanac and lyrical sea shanties, although many of those proved to be too rowdy for the desired wholesomeness of the works. After experimenting with red and green borders, she chose black, as it provided the ultimate contrasting backdrop for the colors it enclosed.
Eventually, it all came together. Fanciful nostalgic nautical designs, enveloped by lyrical sayings and the trademark bronze scallop shells stenciled on all four corners.
"I lived happily here painting," Elizabeth reflected. "I was lucky; hit it in the early 80s. The economy was doing well, people were buying art and I was painting something new and different."
Liz has done a mixture of commissioned paintings and those of her own inclination, the latter of which have been both sold in galleries and through signed and numbered limited prints.
"Back in the '80s when things were selling rapidly, I had a certain price point for a painting. (But) there was a demand for people that wanted something less expensive, and they liked these images, so that clearly the way to go was to get prints made."