Pamela Purdy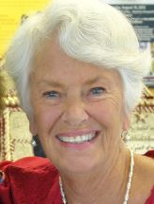 Pamela Chatterton-Purdy graduated from New Canaan Conn. High School in 1959; received an A.A. from Green Mountain College in 1961, her B.A. from The University of New Hampshire in 1963.
She married her husband David Purdy, a Methodist Minister, June 7, 1963 and received her M.F.A. from The University of Massachusetts in 1966. She has taught art at Bay Path College, Longmeadow, MA, Springfield College, Springfield MA, and The University of Massachusetts at Amherst, plus the public schools of Middleboro, MA and Brookline MA. She has taught art for over 30 years.
In 1987, Pamela wrote a book titled BEYOND THE BABYLIFT, A Story of an Adoption. It was published by Abingdon Press, Nashville TN. The Purdy's have 4 children and the book focuses on the adoption of the Purdy's Amer-Asian child and the struggle to become a family.
In retirement Pamela has created a series called "Icons of the Civil Rights Movement" which has traveled to over 24 Colleges and Universities. In January 2009 the show went to Washington DC for the Inauguration of President Barack Obama.
In 2012, Pamela and her husband published a book Icons of the Civil Rights Movement, her husband doing the research and text featuring Pamela's artwork. When the show is not traveling, it resides at The Zion Union Heritage Museum 276 North St. Hyannis, Mass.
For more information about Pamela Purdy visit: www.chatterton-purdyart.com
August 16, 2013
Dear Madam,
I am sorry to bother you with this message but I saw you are related to William Rodney Conner who died in Italy March 3, 1945. The reason I know of William is because I reside in the area where he died. A few years ago I found his canteen engraved with his name. Thanks to the 10th Mt. Division Veterans Association I was able identify it as T5 William Rodney Conner, killed in action near Monte della Piella.