Rachel Ellis Kaufman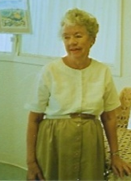 Rachel Ellis Kaufman was born August 13, 1912 in Detroit, Michigan. The family always returned to the Cape each summer considered "The Cape" to be true home.
Rachel began her art career in New York City after graduating from the New York School of Applied Design in 1924. She worked in the garment district of the city primarily as a textile designer up until she married a newspaper reporter in 1937. At this point she turned to oil painting.
Due to her husband's occupation she began to travel throughout Europe and across America extensively, something she continued to do throughout the remainder of her life.
Even with two children, a son and later a daughter, Rachel always found the time to create, exhibit, and sell her artwork. In fact, traveling to places such as Lisbon, London, Los Angeles, Key West, and St. Thomas, V.I. to mention a few, actually fueled her work as well as her study of art.
During the autumn of her life, a single woman, Rachel moved back to Cape Cod and switched to working with pastels. The impetus for this change was the onset of vertigo and macular degeneration.
Still passionate as ever about being an artist, she decided to create a series of poems and pastel paintings based on her childhood memories of the Cape Cod family ancestral home, Orchardside, located in East Sandwich.
This wonderful collection of thirteen paintings with accompanying poetry is now part of the permanent collection of the Cape Cod Museum of Art in Dennis, MA.
Rachel passed from this life on March 13, 2001. Fortunately, she left behind an impressive legacy of art, poetry and essays as witness to the vital life she lived and the places she loved.
By the late Rachel Ellis Kaufman (selected from her series of essays titled" Far Away Places") What is it about the Cape which invades the spirit?