Then the lilacs begin their two or three week reign in dooryards, hedges, and cemeteries by Memorial Day. When they pass, the land is poorer for their loss during the other fifty weeks of the ensuing year. Alas! For so short a time!
But soon the fragrance of wild roses permeates the Cap, and after that the honeysuckle swarms up the trees and fences to cast its honey to the breezes. And so it goes through summer months until the fall appears.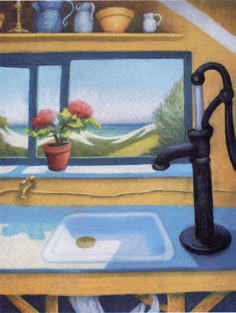 Kitchen Sink
, by Rachel Ellis Kaufman pastel,
"Orchardside" series, collection
CCMOA
An autumn fragrance falls upon the Cape - of dampened woodland leaves and autumn smoke, arousing poignant memories in a minor key.
An ancient dread is born in us of winter's swift descent, when fragrance flies away until the spring appears. Some of Cape Cod's scents are so subtle that we inhale them unconsciously most of the time.
They are place markers, helping us to recognize and know more fully where we are. This olfactory sense is even more primitive than sound or vision. We draw in the actual essence of the place, not merely the reflected vibratory waves that stimulate the eye and ear. "The nose knows"!
There is a familiar tang of the air around the special dock or boatyard where you tie up your boat. Something of sea-water, fresh air, and creosote from the pilings and from wooden planks warmed in the sun.
There is peculiar land smell coming to meet you after a sail at sea. This smells of heat and dryness, wafting to you from the sand and beach grass growing on the dunes and barrier islets you pass between them in an estuary, or drawn from the resinous sap of pines. Your nose knows that you are nearing home!
Of course there is the pungent odor of the salt marsh, an acquired delight. Newcomers to the Cape contend that it smells like dead clams! Partly true, no doubt, but it is a compendium of many factors - water, grasses, sweet heather and salt air as well.
Cape Cod, the "Narrow Land" of the Wampanoags! Fragile, ever-changing, the sea erodes the promontories only to deposit their sands and gravels on the bars and beaches on the other side. In this manner, although the Cape as a cape may be destroyed, it may be that Cape Cod is simply "walking" across its bay to join the Continent at Plymouth. A transformation and transcendence - again, suggestive of the Life that lives on within us all!
All images published courtesy of Heather Blume