Saralee Perel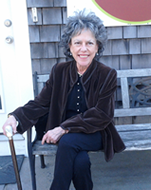 Saralee Perel is an award-winning nationally syndicated columnist. Her new book, Cracked Nuts & Sentimental Journeys: Stories From a Life Out of Balance, is available in local bookstores.
It can also be ordered through Amazon, or directly from the publisher, as well as from Saralee for a personalized signed copy.
Her novel, Raw Nerves, is also available as a paperback and an e-book on Amazon.
For more information, please visit her website: www.saraleeperel.com or e-mail her at sperel@saraleeperel.com
Thirty-seven years ago, a young girl made Christmas cookies for the very first time in her life. All of the cookies came out of the oven looking beautiful . . . except for one.